Sri Lanka: UN votes to launch international inquiry in to alleged war crimes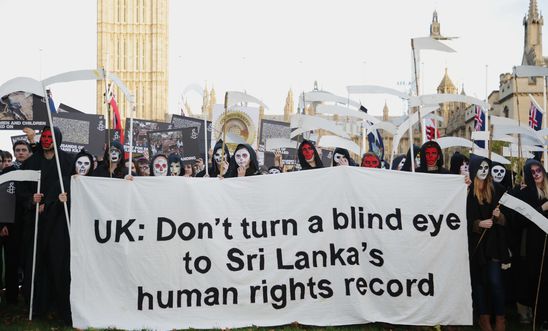 Demo in London ahead of last year's CHOGM meeting © Amnesty UK
The Sri Lankan government must cooperate with UN investigators, Amnesty International said today as the UN Human Rights Council established an inquiry into allegations of war crimes and crimes against humanity in the country.
This morning, the UN Human Rights Council voted to task the Office of the UN High Commissioner for Human Rights (OHCHR) to investigate allegations of abuses and crimes committed by all sides of the brutal conflict that saw tens of thousands killed and wounded. Amnesty has been calling for the establishment of an independent investigation for years.
David Griffiths, Asia-Pacific Deputy Director at Amnesty International, said:

"The UN inquiry brings new hope for the thousands of victims of abuses in Sri Lanka.

"Not only have the Sri Lankan authorities failed to secure justice for war crimes and possible crimes against humanity, they are also actively targeting those seeking justice.

 "It is important that the UN High Commissioner for Human Rights is provided with the necessary material and political support to make its investigation as robust and far reaching as possible, with the aim of ensuring that the truth is finally established so that impunity is tackled."
Allegations have been made that, during the final stage of the armed conflict, government forces intentionally shelled civilians, blocked food and medicine from reaching communities and executed prisoners. Meanwhile witnesses say their armed opponents, known as the Liberation Tigers of Tamil Eelam (LTTE), recruited child soldiers, used civilians as human shields, and killed those who tried to escape.
This is the third resolution by the UN Human Rights Council aimed at ensuring accountability for violations committed by both sides during Sri Lanka's conflict.
Despite two prior resolutions by the Council in 2012 and 2013, Sri Lanka has failed to take effective steps to deliver justice for the victims of its civil war, which ended in 2009. Instead, it has launched an aggressive campaign against those who advocate for accountability and an end to impunity for human rights violations throughout the country.
Since the end of the conflict, human rights defenders, activists, journalists and civil society members who are critical of the government have regularly been threatened and harassed.