Spain must end arm sales to Saudi Arabia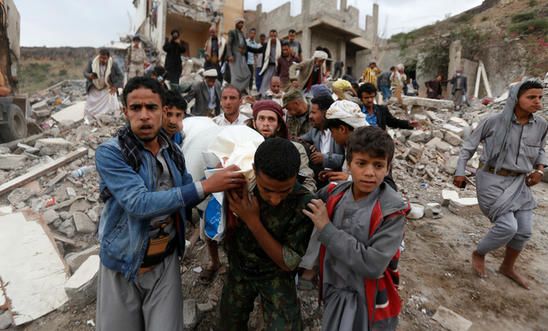 Thousands of Yemeni civilians have been killed in Saudi Arabia-led coalition airstrikes © Khaled Abdullah/REUTERS
With crucial decision expected on Wednesday, Spain urged to cease all arms deals
Spain exported weapons worth nearly €1bn during 2015-17, with licences issued for twice as much again 
International pressure to end arms sales to Saudi coalition growing, including on UK
Amnesty International is calling on the Spanish government to halt all arms sales to the Saudi Arabia-led coalition ahead of an expected decision on the issue on Wednesday.
On 4 September, the Spanish government announced it would cancel the sale of 400 laser-guided bombs to Saudi Arabia, following an international outcry over an airstrike on a Yemeni school bus in the city of Sa'dah which killed 40 children. 
Eight days later the Spanish authorities reversed their decision, saying they needed to "honour a contract". 
All arms deals with Saudi Arabia made under the previous Spanish government have been under review for several weeks and on 19 September a final decision is expected on whether to revoke existing arms export licences and suspend new ones. 
Between 2015 and 2017, Spain exported arms to Saudi Arabia worth €932 million (£831m) and authorised licences worth €1,235 million.
Precision-guided munitions of the type Spain plans to send to Saudi Arabia have been used to devastating effect in Yemen, striking hospitals, hotels, water wells, residential buildings, factories and most recently the school bus attack, resulting in appalling civilian casualties and the widespread destruction of civilian infrastructure. 
Spain has ratified the international Arms Trade Treaty, which prohibits the transfer of weapons, munitions and related items when it is known they would be used for war crimes or where there is an overriding risk they could contribute to serious violations of international human rights and humanitarian law. Spain's own arms exports law prohibits arms transfers when there is reasonable suspicion that they could be used in human rights violations. 
Steve Cockburn, Amnesty International's Deputy Director of Global Issues, said:
"This week the Spanish government has a choice. It can continue with business as usual by honouring trade deals that have the potential to increase the horrendous suffering of Yemeni civilians, or it can take a principled and law-abiding approach and suspend all arms transfers to Saudi Arabia and its coalition members. 

"We are calling on Spain to set an example for other countries, and end this shameful chapter in its history.

"More and more countries are waking up to the fact that arming Saudi Arabia and the coalition bombing Yemen is incompatible with international law and humanitarian principles, and countries like the USA, UK and France are starting to look grossly out of step with the growing international consensus.

"After more than three years of devastating civil war in Yemen, thousands of dead civilians and an ever-growing list of apparent war crimes, there is no possible excuse for Spain, or any other country, to continue to arm the Saudi Arabia-led coalition."
Global opposition to arms sales growing
While many countries continue supplying arms to the Saudi Arabia-led coalition despite years of devastating war in Yemen, pressure has been mounting on the major suppliers.
Last week, MPs in the UK held an emergency debate on Yemen and a poll published on the same day found that just 13 percent of the British public support arms sales to Saudi Arabia. 
Also last week, US Congress forced a discussion on whether Saudi Arabia and the UAE are undertaking sufficient measures to protect civilians in Yemen. In response, the US government claimed that both countries "are undertaking demonstrable actions to reduce the risk of harm to civilians and civilian infrastructure".
Meanwhile, several countries - including Belgium, Germany, Greece and Norway - have responded to public pressure by partly or totally suspending arms transfers to Saudi Arabia, the UAE and other coalition members. In addition, legal challenges are currently underway in the UK, France and Italy to compel these governments to comply with their legal obligations and stop supplying arms for use in Yemen.
Human right violations from all sides
All parties to the conflict in Yemen have repeatedly committed violations of international law resulting in horrific suffering for civilians. The Saudi-led coalition has carried out scores of unlawful attacks, including indiscriminate and disproportionate airstrikes that have killed and injured civilians, and destroyed civilian objects such as homes, schools, hospitals, markets and mosques.  
Meanwhile, Huthi forces have indiscriminately shelled civilian-populated areas, especially in Tai'z, Yemen's third-largest city, and have laid anti-vehicle mines indiscriminately, used banned anti-personnel landmines and recruited child soldiers. They have also arbitrarily detained, forcibly disappeared and tortured people in areas they control.