Sorting truth from lies: how Amnesty works in the era of 'fake news' - Belfast event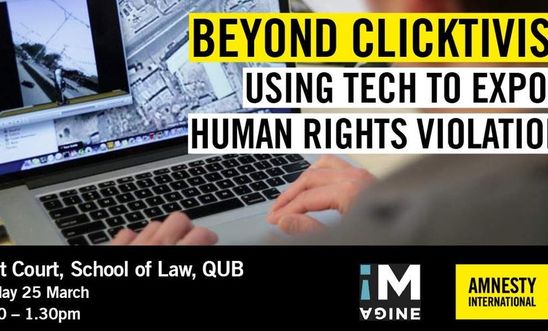 Human rights researcher to lead investigations masterclass in Belfast
An Amnesty International researcher will be in Belfast on Monday (25 March) to reveal how the organisation is using cutting-edge digital investigation techniques to expose human rights abuses in the era of 'fake news'.
Milena Marin leads Amnesty International's Digital Decoders programme which involves tens of thousands of people processing large volumes of data such as satellite imagery, documents and pictures for human rights research.
On Monday, she will lead a masterclass at Queen's University Belfast on how the organisation is using digital technology, open source investigation methodologies and crowdsourced volunteers around the world to expose human rights abuses - from massacres in Darfur to online violence against women on Twitter.
Milena Marin will be giving a public presentation and leading a masterclass on Monday at Queen's University Belfast as part of the Imagine Festival of Ideas and Politics.
Some free tickets are available via the festival website.
Uncovering atrocities in Cameroon
One such Amnesty investigation provided the basis for last year's BBC Africa Eye report on the executions of women and children by Cameroonian soldiers. A grisly video showing a heinous act of violence quickly went viral after it was posted on 10 July 2018. Men dressed in army fatigues and wielding military-grade rifles brutally marched women and young children to a rural location before blindfolding and executing them.
As the video spread on social media, so did the rumours. Was this in Mali or Cameroon? Were they government armed forces or Boko Haram fighters masquerading as soldiers? Was it real or staged?
In situations like this, the 'truth' can appear malleable, with those in power sometimes taking advantage of the confusion to peddle false narratives. That's precisely what the government of Cameroon initially did. Fearing a backlash if the real story came out, Cameroon's Minister of Communication held a press conference where he attempted to dismiss the video as 'fake news'.
The same day as the Minister's press conference, Amnesty's forensic analysis of the video began to establish the facts of what happened. The organisation's research followed meticulous open source investigation methodologies and the findings were corroborated by testimonies from the ground.
Relying on multiple strands of evidence – including geolocation of the video, expert analysis of the uniforms and weapons used, and linguistic and other contextual clues in the speech that gave away the identities and ranks of the soldiers – the organisation was able to begin to build a case to counter the official narrative. The evidence strongly suggested that Cameroonian soldiers were the ones extrajudicially executing civilians in the video.
A subsequent BBC Africa Eye documentary, Anatomy of a Killing, was released in September 2018 with support from Amnesty International and other open source investigators. The documentary went on to win a prestigious Royal Television Society Award.