Slovakia: law forcing women to view embryo and listen to foetal heartbeat before abortion must be blocked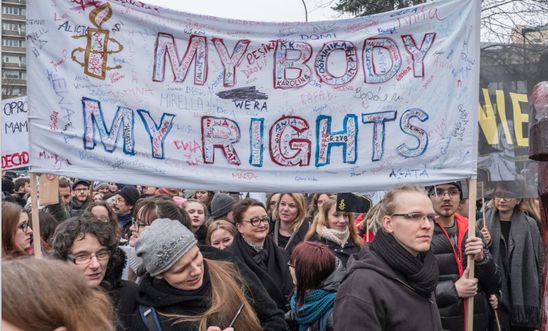 Abortion protests 2018 (Poland)
Amnesty International to support march in Bratislava, 17.30 pm (GMT+1)
Demonstrations will be held in Slovakia today against proposed legislation that would be an 'intrusive roll back' on women's reproductive rights, Amnesty International said, ahead of this afternoon's marches.
The legislation would require women seeking an abortion to undergo mandatory ultrasound scanning, to view an ultrasound image of the embryo or foetus and, where technically possible, to listen to the foetal heartbeat. It also seeks to prohibit "advertising" on abortion and to impose a fine of up to £56,880.00 on those who order or disseminate it.
This week, Amnesty International joined more than 30 organisations in signing an open letter calling on MPs to stop the bill. MPs could vote on the legislation next week.
Today's demonstrations will take place in Bratislava and in Liptovský Mikuláš at 17.30pm local time.
Monica Costa Riba, Amnesty's Senior Campaigner on Women's Rights in Europe, said:
"This bill is a clear and intrusive attempt to roll back on reproductive rights of the women of Slovakia. If adopted, it will harm women's health and well-being, obstruct their access to safe abortion care and violate Slovakia's international human rights obligations.

"As per World Health Organisation safe abortion guidelines, there are no medical grounds whatsoever for the proposed changes. Rather they appear intended to create barriers to obtaining abortion, and we call on all MPs to reject this regressive proposal."
Demonstration details
The march will take place in Freedom Square (Námestie Slobody), Bratislava. The demonstration in Liptovský Mikuláš is organised by Nebudeme Ticho Initiative.