Sir Richard Branson, Kate Nash and Sir Trevor McDonald to judge Amnesty's Youth Awards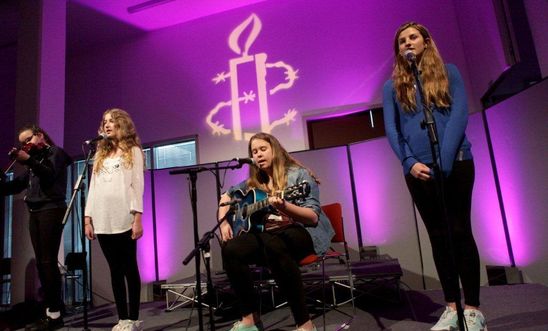 Queenswood Girls performing at 2014 Youth Awards © Marie-Anne Ventoura
Sir Richard Branson - ambassador of Amnesty's Youth Awards

Sir Trevor McDonald OBE – judge, Young Reporter strand

Krishnan Guru-Murthy – judge, Young Reporter strand

Rankin – judge, Photographer strand

Kate Nash – judge, Singer-Songwriter strand

Owen Jones – judge, Campaigner strand 
The hundreds of school pupils and college students who enter next year's Amnesty International's Youth Awards may have their work reviewed by Sir Richard Branson and judged by distinguished broadcaster Sir Trevor McDonald.  
Young people, aged from seven to 19 years old, can submit entries for any of the five categories featured in Amnesty's Youth Awards – songwriter or performer; photographer, fundraiser, campaigner or reporter – highlighting a human rights issue of their choice. 
Sir Trevor McDonald will judge one of the four Young Reporter categories while Sir Richard Branson is an ambassador for the Awards and will have a chance to review the winning entries. Expressing his delight, Sir Richard Branson said:
"It's great that the Amnesty Youth Awards provide a platform for Britain's youth to show off their creativity in tackling issues like the death penalty, migration and freedom of expression. I'm delighted to be part of these Awards and am looking forward to seeing just how imaginative our young people can be when it comes to shining a spotlight on human rights." 
In addition to the two men knighted for their expertise and excellence in their fields of business and broadcasting, prominent figures will also represent other strands of the Awards. Fashion and portrait photographer Rankin will judge the photography strand, while commentator, writer and campaigner Owen Jones will be a judge for the Campaigner strand and Channel 4 News presenter Krishnan Guru-Murthy will judge another strand of the Young Reporter category.  
Photographer Rankin said: 
"Photography has a unique power to bring human stories to life. Encouraging the next generation of photographers is an important job.  It's not the easiest topic to grapple with but a creative young mind with a keen eye for striking imagery could really deliver some memorable and powerful photographs. Amnesty's Youth Awards is such an inspiring competition for youngsters."
Singer-songwriter Kate Nash will judge the singer-songwriter category.  Kate said: 
"I fell in love with making and playing music when I was at school.  Not only is music a powerful form of expression, it can also educate and stir others into action. It's great that Amnesty recognises music as such an important mode of expressing human rights, and I'm delighted to be a judge for Amnesty's Youth Awards Singer- Songwriting strand."
Amnesty International UK Director Kate Allen said: 
"We have been overwhelmed with an abundance of distinguished and well-respected figures and organisations willing to be part of Amnesty's Youth Awards. Hopefully students who enter will have a real confidence boost knowing that their work will be appraised by Sir Trevor McDonald, Kate Nash, Owen Jones or Rankin." 
Amnesty International's Youth Awards is being run for the first time in partnership with the TES and sponsored by SOAS, University of London and supported by players of People's Postcode Lottery. Its Reporter strand is also being supported by Press Association, while Getty Images is supporting the Photographer category. 
Press Association's Sean Ottley said:
"The Press Association is pleased to support the Reporter category for Amnesty's Youth Awards 2015. We hope that it will offer a springboard for some members of the next generation of journalists."
While Patrick Llewellyn, Senior Editor, Getty Images says: 
"Getty Images is delighted to be supporting The Amnesty Youth Awards for a second year. Photography is an extraordinarily powerful way of storytelling, and we are committed to bringing through the next generation of image makers. These awards encourage young people to become involved in issues of human rights, harnessing the power of imagery to raise awareness and drive change."