Simon Russell Beale to appear at 'Poems That Make Grown Men Cry' event at National Theatre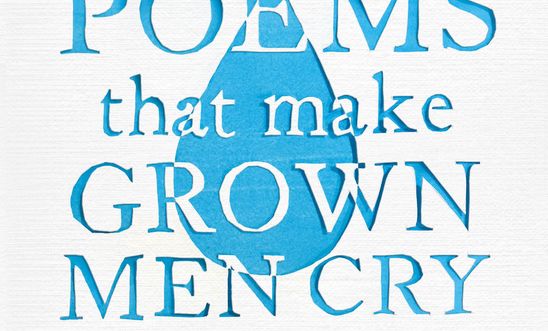 100 men on the words that move them - with Simon Russell Beale, Melvyn Bragg and Ian McEwan - Tuesday 29 April, 6pm
 
'Everyone who reads this collection will be roused: disturbed by the pain, exalted in the zest for joy given by poets' - Nadine Gordimer, Nobel Prize for literature winner
 
To celebrate the launch of a new collection of poetry, selected by 100 prominent men - from Salman Rushdie to Jonathan Franzen, John le Carré to Richard Dawkins, Nick Cave to Stephen Fry, and Colin Firth to Daniel Radcliffe - an exclusive live reading is being held at London's National Theatre on Tuesday 29 April.
 
"Poems That Make Grown Men Cry" is a selection of poems chosen by widely-admired men, with an introduction explaining why they chose the specific poem. The anthology has been put together by the writer Anthony Holden and his son, film producer Ben Holden, in partnership with Amnesty International.
 
The anthology challenges the assumption and cliché that women are more "emotional" than men. The contributions are all written by successful, influential men, some with very tough images, who admit to crying. Many share deeply personal insights and experiences, all prompted by poetry.
Kate Allen, Amnesty International UK Director, said:
 
"Gender stereotyping is dangerous because it represses ability and ambition, encourages discrimination and upholds social inequalities that are often a root cause of violence.
 
"We hope that this anthology will encourage boys, in particular, to know that crying - and poetry - isn't just for girls."
On Tuesday 29 April a live reading of some of the poems - read by the men who selected them, including Simon Russell Beale, Melvyn Bragg, and an McEwan - will be held at the National Theatre in a performance directed by Sir Richard Eyre.
 
The readings will be followed by a book signing. The collection, published by Simon and Schuster, is available from 10 April, price £16.99.
What: Poems That Make Grown Men Cry - in performance
Where: National Theatre, South Bank, London SE1
When: 6pm, Tuesday 29 April 2014
For press places, interviews, extracts or photographs, please contact the press office.
 
Note to editors
Anthony Holden is an award-winning journalist and biographer who has published more than 30 books, including lives of Shakespeare, Tchaikovsky, and Laurence Olivier. Ben Holden is a writer and film producer.