'Significant milestone towards marriage equality in Northern Ireland' – campaigners welcome first majority vote in Assembly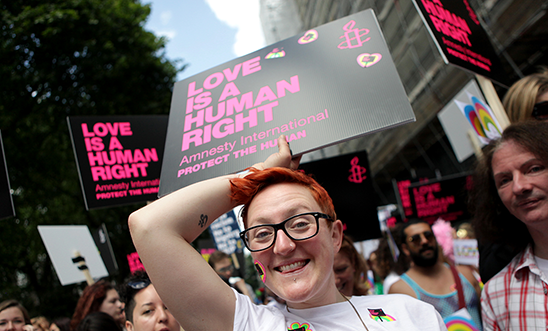 Campaigners have welcomed a vote in the Northern Ireland Assembly today, which saw a majority of Assembly members vote in favour of marriage equality for the first time.
53 MLAs voted for and 52 against a motion which called on the Northern Ireland Executive to introduce marriage equality legislation.
The motion, however, was officially defeated as the Democratic Unionist party (DUP) lodged a 'petition on concern' which effectively blocked the successful vote.
Patrick Corrigan, Amnesty International's Northern Ireland Programme Director, said: "Today's vote is a significant milestone on the journey to marriage equality in Northern Ireland. It shows that, slowly but surely, politicians are catching up with public opinion here, which has been in favour of equal marriage for same-sex couples for some years.
"However, the abuse of the Petition of Concern, to hold back rather than uphold the rights of a minority group, means that Stormont has once again failed to keep pace with equality legislation elsewhere in the UK and Ireland.
"The battle for equality in Northern Ireland will now move to the Courts, where same-sex couples have been forced to go to secure their rights as equal citizens in this country."
Two court challenges to Northern Ireland's ban on same-sex marriages will be heard in the courts in Belfast in November and December.
Contact: Patrick Corrigan – 07740 623155