Shaker Aamer: reports that he's being returned to UK welcomed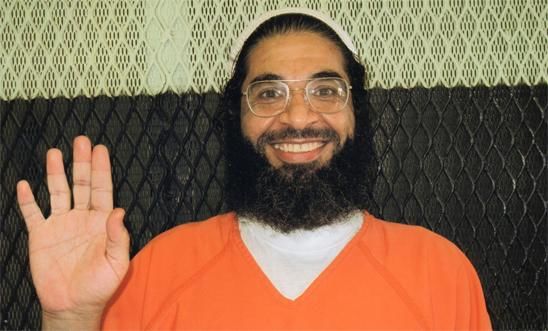 Shaker Aamer has never been charged or put on trial © Handout
'We won't really believe that Shaker Aamer is actually being returned to the UK until his plane touches down on British soil' - Kate Allen
Fresh call for judge-led inquiry into wider UK torture allegations 
Amnesty International has welcomed reports that the former UK resident Shaker Aamer is set to be returned to the UK imminently, after a 30-day "notification" period elapsed allowing US Congress to be informed of the terms of Mr Aamer's release from the US military base at Guantánamo.
Aamer, 46, who is the last of the UK nationals and residents held at the notorious detention centre, is being returned to Britain without ever being charged or put on trial during his 13-and-a-half-year incarceration at Guantánamo. 
In 2007 he was "cleared for transfer" by the US authorities but remained detained at the camp for a further eight years for reasons that have never been made clear. During this time fears have grown for Aamer's health, with reports that his mental and physical health have deteriorated significantly. Aamer has been held for long periods in solitary confinement and has taken part in protracted hunger strikes in protest at his incarceration. He is reported to have numerous ailments and last year was diagnosed with post-traumatic stress disorder.
Meanwhile Aamer, who was arrested by Afghan forces in the city of Jalalabad in 2001 and transferred to US custody, has repeatedly alleged that he was tortured while held in secret US detention in Afghanistan in early 2002. As well as US officials, Aamer has said, men claiming to be MI5 officers were present at interrogations during which his head was "repeatedly banged so hard against a wall that it bounced". Aamer has also alleged that he has been tortured and otherwise ill-treated at Guantánamo. According to his lawyers, he has been the subject of hundreds of violent "Forcible Cell Extractions" at the camp, where a team of guards in riot gear forcibly remove a detainee from their cell. 
Amnesty International UK Director Kate Allen said:
"After so many twists and turns in this appalling case, we won't really believe that Shaker Aamer is actually being returned to the UK until his plane touches down on British soil.

 

"We should remember what a terrible travesty of justice this case has been, and that having been held in intolerable circumstances for nearly 14 years Mr Aamer will need time to readjust to his freedom.

 

"Aamer has alleged that he was tortured in full view of British agents in Afghanistan - a very serious claim that should be fully investigated as part of an independent, judge-led inquiry into a whole set of allegations that UK officials were involved in kidnap, detention and torture overseas during the 'war on terror'.

 

"Meanwhile, let's not forget that more than 100 detainees remain behind at the camp as Aamer comes through Guantánamo's gates. This is far from over. The USA must promptly charge all the remaining detainees with recognisably criminal offences and ensure they receive a fair trial before a federal civilian court, or safely release them." 
Long campaign for justice
Aamer, who was born in Saudi Arabia, had permission to live indefinitely in the UK on the basis of his marriage to a British national at the time of his original detention. Mr Aamer has four children - all British nationals - the youngest of whom, Faris, 13, has never seen his father as he was born after Aamer was detained. 
The long campaign for justice for Mr Aamer has involved several dedicated campaign groups and networks of his supporters, as well as MPs who have taken up his cause as pressure mounted on the UK government to achieve a breakthrough in the case. Amnesty has campaigned for him to be given a fair trial in a civilian court or returned to the UK for many years, and thousands of Amnesty supporters have signed petitions to the US president Barack Obama, prime minister David Cameron and others over this.