Screening of 'Syria's Disappeared' documentary and panel event with leading Syrian activist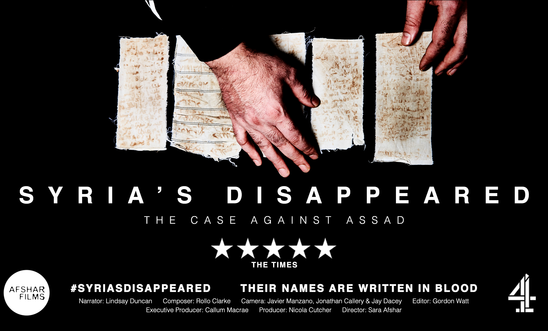 Syria's Disappeared is a harrowing account of arrests and abuse in Bashar al-Assad's Syria
LONDON, WEDNESDAY 30 AUGUST 2017
On Wednesday 30 August, Amnesty International is hosting a special screening in London of the documentary "Syria's Disappeared: The Case Against Assad" followed by a panel discussion with the film's director Sara Afshar and the prominent Syrian human rights activist Mazen Darwish.
The searingly-powerful film - directed by acclaimed film-maker Sara Afshar and narrated by the Scottish actor Lindsay Duncan - tells some of the individual horror stories of arrest, detention and torture in Syria, with survivors and families talking in intimate detail about their experiences and struggles.
Those profiled include the charismatic Mazen Alhummada, a Syrian democracy activist who was tortured in detention but survived to become a campaigner calling for justice for other detainees (for more on Alhummada and the film, see Mazen's tears). 
The 50-minute film, first shown on Channel 4 television earlier this year, also weaves in an account of ongoing efforts from international investigators to build a legal case against members of the Syrian government to enable future prosecutions of those responsible for some of Syria's worst human rights abuses.
Those attending the screening will be encouraged to add their names to an online petition demanding justice for the victims of human rights violations in Syria.
Event details: 
 
What: screening of "Syria's Disappeared: The Case Against Assad" and panel discussion, followed by an informal drinks reception
Who: 
Sara Afshar, Syria's Disappeared director/producer
Nicola Cutcher, Syria's Disappeared producer
Mazen Darwish, Syrian Center for Media and Freedom of Expression
Philip Luther, Amnesty International's Middle East and North Africa Research and Advocacy Director
Where: Human Rights Action Centre, Amnesty International UK, 17-25 New Inn Yard, London EC2A 3EA (Shoreditch)
 
When: Wednesday 30 August 2017, 7pm (doors open at 6.45pm)
 
Cost: free - though please reserve a place here.