Saudi Arabia: more women's rights activists detained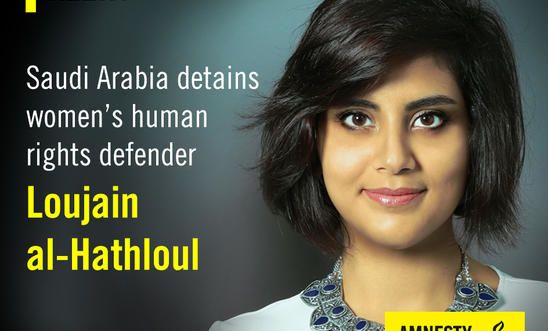 Eleven now believed to be held, including prominent campaigner Loujain al-Hathloul 
'The authorities have responded with even more repression in a desperate attempt to silence dissent and feminist voices speaking up for human rights' - Samah Hadid
Responding to news reports that more women's rights activists have been detained in Saudi Arabia - bringing to 11 the number held since last week - Samah Hadid, Amnesty International's Middle East Campaigns Director, said:
"Despite the international outcry at last week's arrests, the authorities have responded with even more repression in a desperate attempt to silence dissent and feminist voices speaking up for human rights. 

"Crown Prince Mohammad bin Salman presents himself as a 'reformer', but his promises are meaningless if those who fought for women's right to drive are now all behind bars for peacefully campaigning for freedom of movement and equality.

"We call on the authorities to reveal the whereabouts of these individuals and either charge them with a recognisable offence - or release them immediately."
Ban on women drivers due to end next month
Many of the women's rights defenders detained have campaigned against the longstanding ban on women drivers in Saudi Arabia. The ban is due to be lifted next month, with licences being issued from 24 June.
At the weekend, Amnesty identified six of those rounded up last week and called for their release following what Amnesty described as a "chilling" smear campaign orchestrated by the government to discredit them as "traitors". 
 
Downloads