Saudi Arabia: leading human rights activist Abdulkareem al-Khoder jailed for ten years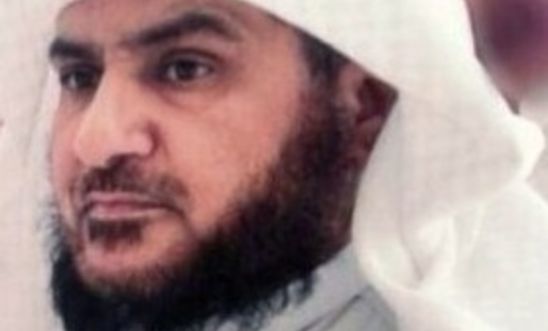 Abdulkareem al-Khoder's original eight-year sentence has been increased to ten years © Private
Abdulkareem al-Khoder's list of offences included 'disobeying the ruler'
'Saudi Arabia is sending a chilling message that anyone who speaks out will be purged' - James Lynch
The Saudi Arabian authorities today continued their cynical use of a repressive and overly vague counter-terrorism law to purge the Kingdom's small and embattled civil society by convicting the human rights activist Abdulkareem al-Khoder and imprisoning him for ten years, Amnesty International said today.
Al-Khoder, co-founder of the Saudi Civil and Political Rights Association (ACPRA), was originally jailed for eight years in June 2013 after a trial before a criminal court, though his sentence was overturned last year. However, he remained arbitrarily held in prison and his latest conviction was handed down by the country's Specialised Criminal Court under a counter-terrorism law that took effect in February last year. 
Al-Khoder, who is also a former professor in the Faculty of Islamic Jurisprudence at al-Qassim University, is one of 11 founding members of ACPRA who are either already behind bars or still on trial for calling for political and human rights reforms. His 2013 arrest came as part of a government crackdown against ACPRA when its two founding members - Dr Abdullah al-Hamid and Dr Mohammad al-Qahtani - were jailed and the authorities ordered that the organisation be disbanded. Al-Khoder was accused of a list of offences including "disobeying the ruler", "inciting disorder by calling for demonstrations", "harming the image of the state by disseminating false information to foreign groups" and "taking part in founding an unlicensed organisation", a reference to ACPRA. 
Fellow ACPRA member Dr Abdulrahman al-Hamid was sentenced by the Specialised Criminal Court last Wednesday to nine years in prison. His brother Abdullah al-Hamid has been serving a ten-year sentence since 2013, and a third brother, Issa al-Hamid, was due to be sentenced last week but the court session was postponed to November. 
The Specialised Criminal Court also recently re-opened a case against ACPRA's youngest member, Omar al-Sa'id, who was previously sentenced in 2013 to four years imprisonment and 200 lashes for his activism. Among the other ACPRA members already behind bars are an 80-year-old former judge, Sheikh Suliaman al-Rashudi, who was detained and started serving a 15-year prison term in December 2012, two days after he gave a talk on the legality of peaceful protests in Sharia law. 
Amnesty International's Acting Middle East and North Africa Deputy Director James Lynch said:
"Saudi Arabia is sending a chilling message that anyone who speaks out will be purged.

 

"The outrageous convictions of ACPRA members for their human rights activism, coming on top of Saudi Arabia's already appalling human rights record, makes a further mockery of its obligations as a member of the UN Human Rights Council to uphold the highest standards of human rights.

 

"Along with the recent death sentences of three juvenile activists and the imposition of cruel, inhuman and degrading punishments such as the flogging of blogger Raif Badawi, this is yet another grim affirmation of the Kingdom's desire to crush dissent of whatever form."
Shia activists on death row
Seven Shia activists are currently on death row in Saudi Arabia, including Ali al-Nimr, who was 17 at the time of his alleged crimes, as well as his uncle, Sheikh Nimr al-Nimr. Dawood Hussein al-Marhoon and Abdullah Hasan al-Zaher were also children at the time of their alleged crimes. Imposing death sentences on child offenders violates international law. 
Amnesty opposes the death penalty in all circumstances without exception. At least 137 people have been executed in Saudi Arabia so far in 2015 (last year's total was 90). Amnesty is calling on Saudi Arabia to halt all executions and release all prisoners of conscience immediately and unconditionally. 
ACPRA shut down 
Set up in October 2009, ACPRA was an independent human rights NGO reporting on human rights violations and assisting families of detainees held without charge to bring cases against the Ministry of Interior before the Board of Grievances, an administrative court with jurisdiction to consider complaints against the Saudi state and its public services. 
ACPRA members have spoken out repeatedly against the detention practices of the Saudi Arabian authorities. They have been especially critical of the Ministry of Interior and its feared security and intelligence branch, the General Directorate of Investigations or al-Mabahith, whose officers wield extensive powers and are able to arrest, detain, torture and abuse those they suspect with impunity. GDI officers use these powers not only against terrorism suspects, but against virtually anyone who speaks out against the authorities, including peaceful critics such as those associated with ACPRA or other human rights activists and organisations. All such independent organisations have been forcibly shut down and their founders imprisoned or forced into silence by the authorities. A recently implemented counter-terror law and decrees have extended legal cover for these human rights violations and abuses of power, meaning that even peaceful criticism is all too readily branded as terrorism against the state.