Saudi Arabia: doctors find Raif Badawi unfit for flogging for second week in a row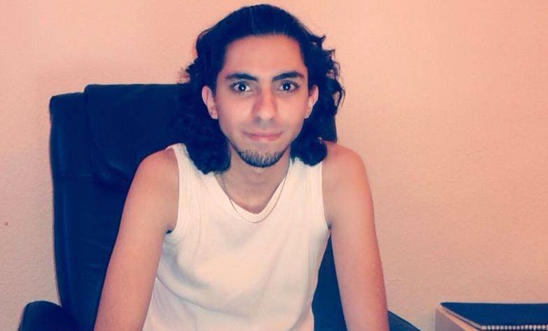 Raif Badawi © Private
Candle-lit #FreeRaif vigil for 31-year-old blogger goes ahead at Saudi embassy in London at 5pm today

'Raif Badawi is still at risk, there is no way of knowing whether the Saudi Arabian authorities will disregard the medical advice and allow the flogging to go ahead' - Said Boumedouha
Amnesty International has learned that the planned flogging of the jailed blogger Raif Badawi is likely to be suspended tomorrow after a medical committee assessed that he should not undergo a second round of lashes on health grounds.
The committee, comprised of around eight doctors, carried out a series of tests on the blogger at the King Fahd Hospital in Jeddah yesterday and recommended that the flogging should not be carried out.
Mr Badawi, a 31-year-old father-of-three, is serving a ten-year jail sentence - and facing 1,000 lashes and a heavy fine - for offences related to his setting up the Free Saudi Liberals website, an online forum for public debate, as well as accusations that he insulted Islam.
On 9 January Badawi was subjected to 50 lashes in a public square in the city of Jeddah, the first of 20 weekly batches of floggings the activist is due to receive. Last Friday the lashes were called off after a prison doctor reportedly examined Badawi and said his wounds from the first week's flogging hadn't healed sufficiently for him to be flogged again.
Amnesty International Middle East and North Africa Deputy Director Said Boumedouha said:
"Instead of continuing to torment Raif Badawi by dragging out his ordeal with repeated assessments, the authorities should publicly announce an end to his flogging and release him immediately and unconditionally.

"Raif Badawi is still at risk, there is no way of knowing whether the Saudi Arabian authorities will disregard the medical advice and allow the flogging to go ahead."
Earlier this week Amnesty - along with the British Medical Association and Freedom from Torture - staged a conference of medical health professionals to discuss the ethical and practical challenges facing forensic physicians as they confront torture. Amnesty International UK's Stop Torture Campaign Manager Tom Davies said:
"Why are doctors in Saudi Arabia taking any part in a process that is clearly a vicious act of cruelty?

"All medical professionals have a clear duty to avoid any involvement in acts of torture and cruel treatment whatsoever. Indeed, they should be reporting their suspicions that abuse is taking place if they come across it.

"Rather than providing pre-flogging medical assessments, prison doctors in Saudi Arabia should refuse to participate in the calculated cruelty of Raif Badawi's punishment."
International outcry
Badawi's case is thought to be the subject of a current review by Saudi Arabia's Supreme Court, but despite an international outcry - and today's likely suspension - Amnesty fears the blogger could be lashed again soon.
Over three-quarters of a million people have supported an Amnesty campaign calling for the Saudi authorities to definitively call off the flogging and release Mr Badawi.
Meanwhile, Amnesty has been critical of the UK government for failing to speak out strongly about the case, with the organisation accusing UK ministers of "wearing the Saudi muzzle" in its muted response.
Demo at Saudi embassy in London today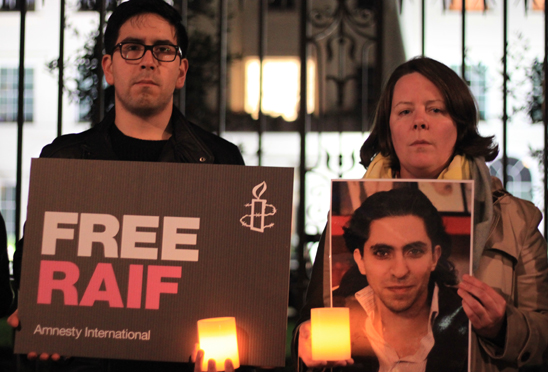 Amnesty will hold a candle-lit protest vigil for Raif Badawi outside the Saudi Arabia Embassy in central London at 5pm today. Protesters holding large photographs of the activist with "#FreeRaif" slogans will line the street outside the embassy in London's Mayfair area.
Where: Saudi Arabia Embassy, Mayfair, London (note: protest will be at rear of embassy in Curzon Street, opposite Curzon Mayfair Cinema)
What: candle-lit protest vigil with Raif Badawi photographs and #FreeRaif banners
Who: Kate Allen, Amnesty International UK Director and approximately 100 fellow campaigners
When: 5-6pm, Thursday 22 January 2015
To film or photograph the event, or to arrange an interview with Kate Allen, please contact the Amnesty International UK media team (at the event: Neil Durkin, 07972 718826, or Naomi Westland, 07932 995023).
Amnesty protests are also planned in Edinburgh and Belfast, as well as in numerous countries around the world - including Belgium, Canada, Germany, Hungary, Ireland, the Netherlands, Norway and Switzerland.