Rwanda: Commonwealth leaders must call on UK to end 'cruel and racist' refugee deal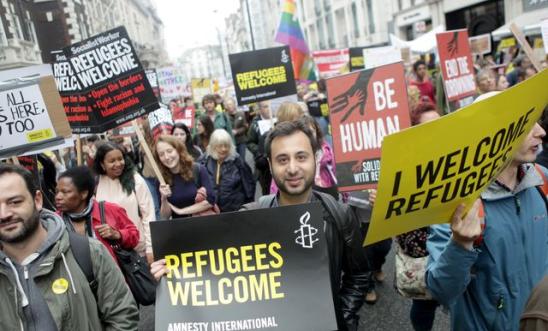 © Marie-Anne Ventoura - Amnesty International
With Commonwealth leaders due to meet in Kigali on 20-25 June, Amnesty calls for 'firm and clear stand'
'By trying to dump asylum-seekers in Rwanda, the UK government is shirking its international responsibility under the Refugee Convention' - Deprose Muchena
Commonwealth leaders must take a "firm and clear stand" against the UK's refugee deal with Rwanda, Amnesty International said today, ahead of the Commonwealth Heads of Government Meeting (CHOGM) scheduled to take place in Kigali next week.
The meeting, scheduled for 20-25 June, comes just days after the first plane intended to forcibly remove people from the UK was grounded after a last-minute legal intervention.
Deprose Muchena, Amnesty International's East and Southern Africa Director, said:
"Commonwealth leaders must take a firm and clear stand to force the UK government to rescind its misguided, cruel and racist policy that shifts its responsibility towards refugees and asylum-seekers to Rwanda.

"By trying to dump asylum-seekers in Rwanda, the UK government is shirking its international responsibility under the Refugee Convention to protect people in need of asylum.

"Member states need to seize the opportunity in Kigali to denounce this inhumane arrangement and pressure the UK and Rwanda to end the deal. It seriously threatens to undermine the international mechanism for the protection of asylum-seekers."
UNHCR has warned of unlawfulness
On 14 April, the UK and Rwanda governments signed a Memorandum of Understanding that agreed a controversial new system to relocate asylum-seekers from the UK to Rwanda.
Earlier this week (14 June), the first scheduled flight to Rwanda as part of the policy was cancelled, with Amnesty saying the cancellation should have been followed by a complete cancellation of the policy by the UK government.
The United Nations High Commissioner for Refugees recently raised concerns over Rwanda's shortcomings in its asylum process, citing the arbitrary denial of access to asylum procedures, the risk of detention and deportation of undocumented asylum-seekers, the discriminatory access to asylum procedures faced by LGBTIQ+ individuals, and a lack of legal representation.
In a legal analysis, the UNHCR concluded that the UK-Rwanda arrangement "does not meet the requirements necessary to be considered a lawful and / or appropriate bilateral transfer arrangement".