Russia: World Cup will serve as reminder of 'dismal' human rights record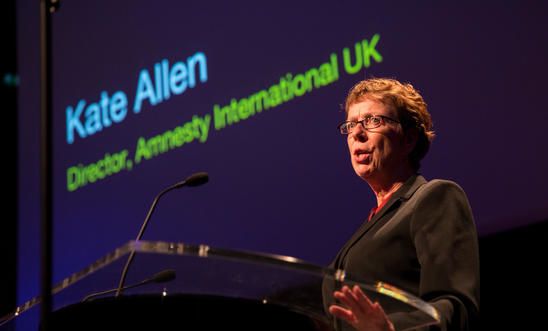 "The authorities have been employing Soviet-style tactics against human rights defenders." © Amnesty International
'I was brutally beaten, hit on the head and body with a metal pipe. Both my legs were broken and I spent more than a month in hospital' - activist Vasiliy Guslyannikov
'The authorities have been employing Soviet-style tactics against human rights defenders' - Kate Allen
Amnesty International is reiterating its call for the urgent protection of human rights defenders in Russia as international attention begins to focus on the country with the start of the World Cup football tournament later this week (14 June).
Since Russia was named World Cup hosts in late 2010, there has been a marked decline in the safety of human rights defenders in the country, with NGO offices and personnel coming under physical attack as well as facing a raft of new restrictions on their activities.
Meanwhile, people in Russia have faced severe curtailments of their rights of freedom of assembly and freedom of expression. In particular, religious minorities and LGBTI people have faced violence and discrimination, while police violence and the torture and ill-treatment of people in detention has been a persistent issue (for more background go here).
Amnesty is highlighting the work of 11 Russian activists in each of the World Cup venue cities, many of whom have risked their own lives to defend human rights.
Those profiled include Vasiliy Guslannikov, who was brutally beaten for speaking out against corruption, and environmental activist Andrei Rudomakha, who was severely assaulted in 2017 by unknown assailants for documenting illegal construction work on the Black Sea coast. Meanwhile, some human rights defenders are currently in jail - including Oyub Titiev, who has been detained for almost six months on fabricated charges because of his human rights work, and Igor Nagavkin, who has spent more than a year-and-a-half in pre-trial detention on trumped-up charges for his work defending prisoners' rights and combatting torture and corruption. (A full list of the 11 human rights defenders is below).
Kate Allen, Amnesty International UK's Director, said:
"In hosting the World Cup, the Russian authorities need to understand that their dismal human rights record is going to receive a lot of attention this summer.
"The authorities have been employing Soviet-style tactics against human rights defenders, using intimidation, harassment, false charges and torture to silence them. 
"We're not here to rain on the World Cup parade, but behind all the euphoria and goal-scoring celebrations we need to recognise the grim reality of everyday repression in Russia.
"There can be no winners in Russia until the people who try to stand up for human rights in the country are protected and free to do their important work."
The Venues
(Full case details available here)
Grozny: Oyub Titiev, head of the NGO Memorial's office in Chechnya imprisoned under bogus charges since January
Kaliningrad: Igor Rudnikov, an independent journalist investigating cases of corruption until his arbitrary detention in 2017
Kazan: Yulia Fayzrakhmanova, an environmental human rights defender
Nizhny Novgorod: Igor Kalyapin, who founded the Committee Against Torture
Rostov-on-Don: Valentina Cherevatenko, a women's rights activist
Samara: Oksana Berezovskaya, who runs an LGBTI rights organisation
Saransk: Vasiliy Guslyannikov, the founder of the NGO Mordovian Republic Human Rights Centre
Sochi: Andrei Rudomakha, an environmental human rights defender who was brutally attacked in 2017
St Petersburg: Irina Maslova, who founded a movement to defend the rights of sex workers
Volgograd: Igor Nagavkin, who worked on fighting torture and corruption in the Volgograd region until he was arbitrarily detained in 2016
Yekaterinburg: Aleksei Sokolov, who fights torture and other abuses in the prison system