Russia: 'near-lethal' deportation of gay journalist Ali Feruz must be halted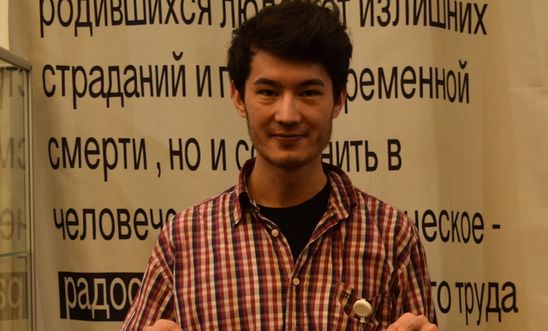 Ali Feruz is an openly gay journalist which places him at great risk if forced back to Uzbekistan © Ivan Kondratenko
Late-night court's decision to send Novaya Gazeta journalist to Uzbekistan places him at acute risk of torture
The journalist had previously fled torture in Uzbekistan
The Russian authorities must immediately overturn their decision to deport at-risk asylum-seeker Khudoberdi Nurmatov - better known under his journalist name, Ali Feruz - to Uzbekistan, Amnesty International said today.
Yesterday, Mr Feruz was stopped by police on his way to the offices of Novaya Gazeta in Moscow, an independent newspaper where he is a correspondent. He was taken to a police station and then to the Moscow Basmannyi Court which heard a case against him late in the evening. A judge ruled that Feruz should be forcibly returned from Russia to Uzbekistan.
In 2009, Feruz escaped from Uzbekistan after he was detained and tortured by officers from the Uzbekistani National Security Service who were seeking to force him to be a secret informer. Feruz was born in Russia and spent his childhood there, moving to Uzbekistan at the age of 17 and becoming an Uzbekistani national.
Feruz eventually made it to Russia in 2011 and has repeatedly tried to claim asylum in the country. He had recently appealed against a refusal by the Russian immigration authorities to grant him refugee status. In yesterday's late-night court hearing, the judge found Feruz in violation of "the rules of entry or stay in the Russian Federation by a foreign citizen" and ordered his deportation.
Denis Krivosheev, Amnesty International's Europe and Central Asia Deputy Director, said:
"Ali Feruz is openly gay, a human rights activist and a correspondent for the independent Novaya Gazeta newspaper. This is a near-lethal combination for someone who is about to be handed over to Uzbekistan, where 'sodomy' is a crime and torture is endemic.

"In spite of overwhelming evidence of the risks of torture and other human rights violations that Ali Feruz would face in Uzbekistan, the judge still ruled that he should be deported. 

"This utterly erroneous decision contravenes the absolute prohibition of torture and must be immediately overturned."