Russia: leading Crimean activist and five co-defendants given long jail sentences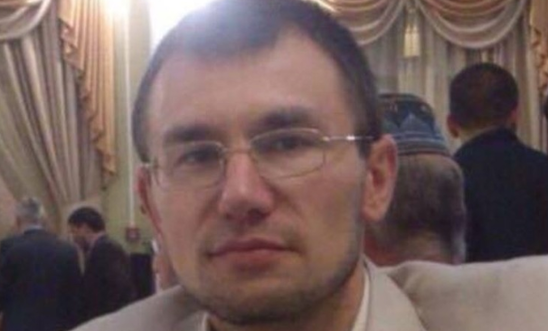 Emir-Usein Kuku has been jailed or 12 years © Meriem Kuku
Prominent Tatar human rights defender Emir-Usein Kuku jailed for 12 years for 'organising the activities of a terrorist organisation' 
'Emir-Usein Kuku is behind bars simply for speaking out for the rights of the Crimean Tatar community' - Marie Struthers
The Russian authorities have shown remarkable cruelty in sentencing the prominent Crimean human rights defender Emir-Usein Kuku and his five co-defendants to long prison terms on trumped-up charges after a lengthy unfair trial, said Amnesty International.
Earlier today, Russia's Southern District Military Court found Emir-Usein Kuku and his five co-defendants - Muslim Aliyev, Vadim Siruk, Enver Bekirov, Refat Alimov and Arsen Dzhepparov - guilty of "organising the activities of a terrorist organisation" and "attempted forcible seizure of power". 
Muslim Aliyev was sentenced to 19 years in a penal colony, Enver Bekirov to 18 years, Vadim Siruk and Emir-Usein Kuku to 12 years, Refat Alimov to eight years and Arsen Dzhepparov to seven years.
Emir-Usein Kuku is a leading member of the Tatar community in Crimea. After Russia's annexation of the region in 2014, Emir-Usein Kuku joined the Crimean Human Rights Contact Group, exposing evidence of coercion and threats to members of the Tatar community. In February 2016, he was arrested and charged over accusations he was a member of Hizb ut-Tahrir, an Islamist movement banned as a "terrorist" group in Russia but not outlawed in Ukraine.
Marie Struthers, Amnesty International's Eastern Europe and Central Asia Director, said: 
"This decision brings to a close what can only be described as a sham trial. 

"Since they were arrested three years ago, Emir-Usein Kuku and his five co-defendants have faced a catalogue of grave injustices. 

"They were shipped from their homes in Crimea to the Russian mainland, accused of 'terrorist' crimes, and tried in front of a military court.

"Emir-Usein Kuku is behind bars simply for speaking out for the rights of the Crimean Tatar community.

"It is devastating that he has fallen victim to the overt repression of the occupying power. 

"The Russian authorities must immediately quash the unjust convictions and release Emir-Usein and the other five men sentenced today."