Russia: Filmmaker Oleg Sentsov and others freed in prisoner swap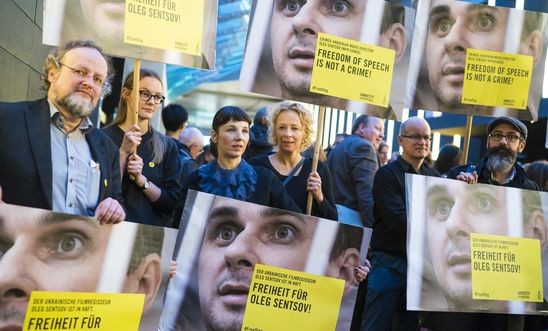 Russia and Ukraine have today finalised the exchange of 66 prisoners, they include 24 Ukrainian sailors captured off the coast of Crimea last year and Ukrainian filmmaker Oleg Sentsov.
Marie Struthers, Amnesty International's Director for Eastern Europe and Central Asia, said:
"Oleg Sentsov and many others jailed following Russia's occupation and illegal annexation of Crimea are simply victims of politically-motivated prosecution and they should never have been imprisoned in the first place. While it is a relief that they are now free, it is a travesty to see them being used as human bargaining chips in political deals.
"The conflict in eastern Ukraine opened a new and tragic chapter for human rights in the country and beyond. Following his arrest, illegal transfer to Russia and deeply flawed trial by a military court, Oleg Sentsov spent more than six years behind bars.
"The Russian authorities derisively refused to recognize his Ukrainian citizenship and transported him 3,000 kilometers away from his family and native Crimea to the frost-bitten penal colony at Labytnangi in the far north of Russia.
"No-one should be prosecuted and imprisoned solely for political reasons; we demand justice for all remaining prisoners subjected to these politically-motivated trials, those who had been imprisoned solely for exercising their human rights, should be immediately and unconditionally release."
Oleg was sentenced to 20 years in prison in 2015 after being found guilty of "terrorism" charges following an unfair trial after he voiced his opposition to Russia's occupation of Crimea.