Russia: Anna Politkovskaya murder convictions fall short of full justice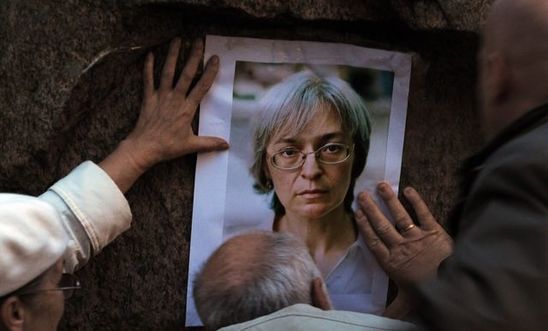 Activists with a photo of Anna Politykovskaya in St Petersburg in 2011 © Demotix/Yury Goldenshteyn
'Those who ordered her killing must be identified and face justice' - Sergei Nikitin
The conviction of five men for the murder of Russian investigative journalist Anna Politkovskaya falls short of full justice, said Amnesty International today, after a court in Moscow yesterday convicted five men for carrying out the 2006 murder of the journalist outside her apartment in the capital. 
Crucially, though, it is still not known who ordered her killing. 
Amnesty is insisting that full justice will not be served until those who ordered the crime are identified and also face the courts.
At the time of her murder, Politkovskaya had been reporting on human rights issues in Russia, particularly in the Chechen Republic in the North Caucasus. 
Sergei Nikitin, head of Amnesty International's office in Russia, said:
"The tragic murder of Anna Politkovskaya uncovered the incredible dangers faced by those trying to expose human rights abuses and corruption in Russia. 

 

"Until justice is delivered in her case, all journalists and activists will be at risk.

 

"The authorities in Russia must demonstrate with concrete actions that they are trying to establish who wanted Anna Politkovskaya dead. 

 

"Those who ordered her killing must be identified and face justice."