Richard Ratcliffe ends hunger strike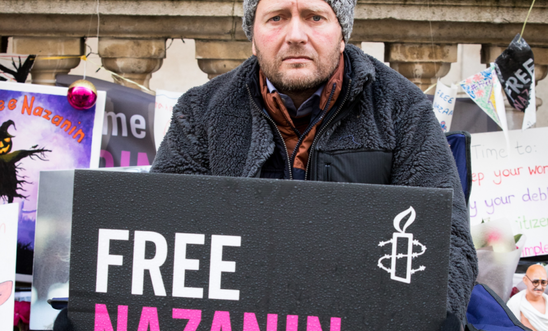 Richard Ratcliffe
Responding to the news Richard Ratcliffe has ended his hunger strike after 21 days, Sacha Deshmukh, the CEO of Amnesty International UK, said:
"Richard's determination has been astonishing, but it should never have come to this. It is a striking reflection on the UK government that Richard, for the second time in two years, felt it necessary to resort to such an extreme and distressing form of protest to try and break the impasse on Nazanin's case.
"We remain hopeful that the extensive outcry, from members of the public across the country and MPs and peers across the Houses of Parliament, may have had some influence behind the scenes which may not be known until later down the line.
"Until then, it remains a devastating fact that Nazanin can be returned to prison to serve time on her second sentence, at any moment, and British nationals, including Anoosheh Ashoori, Morad Tahbaz and Mehran Raoof remain unjustly imprisoned in Iran.
"We've been very concerned for Richard's welfare, and he is likely to require immediate medical attention to assess the impact going on a three-week hunger strike has had on his body."
Richard Ratcliffe has been protesting the government's failure to secure the release and return home of his wife, and mother to Gabriella, Nazanin Zaghari-Ratcliffe. Nazanin has been arbitrarily detained in Iran for over five and a half years.
Throughout the protest, many MPs and peers from all political parties visited Richard and pressed the government to act to secure the release of Nazanin, Anoosheh, Morad, Mehran and all British nationals arbitrarily detained in Iran. Richard has had two meetings with the Foreign Office, including with the Foreign Secretary, and next week a debate will take place in Parliament which Amnesty is encouraging all MPs to attend.