Queen's Speech surge as petition to keep the Human Rights Act tops 100,000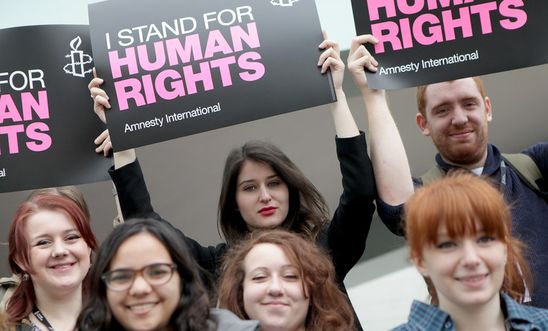 'It's clear this scheme doesn't add up legally, doesn't have support politically and will be opposed publically' - Laura Trevelyan
The Government should "kick their tired and unworkable plan to scrap the Human Rights Act into the long grass and leave it there", Amnesty International said today as the organisation reported a surge in support for keeping the Human Rights Act, following Wednesday's Queen's Speech.
On Wednesday, the Queen's Speech contained a reference to a plan from the Government to bring forward proposals on a Bill of Rights, echoing an almost identical announcement made in the same speech last year, though no consultation ever materialised. Within 24 hours of the speech, an Amnesty petition calling on Justice Secretary Michael Gove to keep the Human Rights Act had surged past 110,000 signatories.  (www.savetheact.com)
Following Wednesday's Queen's Speech, there has been an outcry from politicians across the political spectrum, including from Conservative MP and former Solicitor General Sir Edward Garnier, who warned that attempts to repeal the Human Rights Act would cause "political damage and infighting". Sir Edward added that he suspected the government lacks a majority to get it through Parliament and described the plan as a "dead horse" which amounted to a wholesale attack on human rights in the UK.
On the day of the Queen's Speech, Amnesty, Liberty and the British Institute of Human Rights along with a wide coalition of more than 130 of the UK's most prominent organisations (from religious and professional bodies to law firms, unions, environmental charities and the families of terrorism victims) publicly committed to oppose any attempt to repeal the Human Rights Act.
Laura Trevelyan, Amnesty's Human Rights Act Campaign Manager, said:
"The Government should kick their tired and unworkable plan to scrap the Human Rights Act into the long grass and leave it there.

"It's clear this scheme doesn't add up legally, doesn't have support politically and will be opposed publically.

"It took ordinary people a very long time to win our rights, and we must now stand against this shoddy attempt to strip them away.

"Hillsborough showed that any of us might one day need this vital Act in our darkest times when justice has failed us. It's sinister to see politicians try to take that safety net away."
In October, a ComRes poll commissioned by Amnesty found little appetite to repeal the Human Rights Act among the British public with just 3% of adults thinking it an important priority for the Government. The vast majority of Brits (78%) believe rights should always apply to everyone equally, in order to be effective. Most people polled said that governments should not be able to pick and choose which rights they enforce (67%).