Qatar: today's announcement on labour reforms a 'missed opportunity'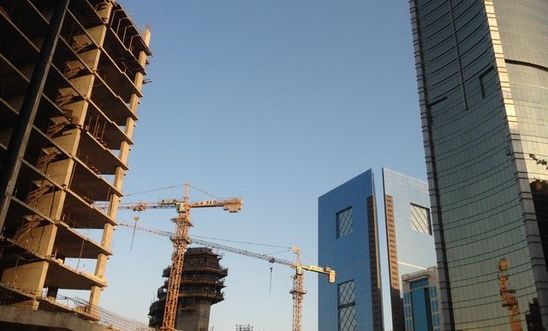 Construction in Doha, March 2013 © Amnesty International
'The government claims it is abolishing the sponsorship system, but this sounds like a change of name rather than substantive reform' - James Lynch
Proposed labour reforms announced by the government of Qatar this afternoon fall far short of the fundamental changes needed to address systemic abuses against migrant workers in the construction, domestic and other sectors, Amnesty International said in response. 
The proposed measures stand in stark contrast to the findings of the international law firm DLA Piper, whose report, commissioned at the government's request, confirms many of Amnesty's findings regarding the systemic nature of the abuse of migrant workers. 
The DLA Piper report - also released today - is highly critical of several aspects of Qatar's laws and policies, including most notably the sponsorship or kafala system, which it says "is no longer the appropriate tool for the effective control of migration in Qatar." However, while the report also states that the government should "review and reconsider the necessity of an exit visa", it does not mention a time-frame for the exit permit's abolition. 
Any system that gives employers the right to object to someone leaving Qatar is inherently open to abuse, said Amnesty, and restrictions on migrants' ability to leave Qatar constitute a breach of the right to freedom of movement. 
The government has also announced new measures including additional penalties for breaching the Labour Law and confiscating passports, and increased recruitment of labour inspectors. However, the Qatari government statement makes no mention of a time-frame within which most reforms will be implemented. 
Amnesty International's researcher on migrants' rights in the Gulf, James Lynch, said:
"Based on today's announcement the proposals appear to be a missed opportunity.

 

"The government claims it is abolishing the sponsorship system, but this sounds like a change of name rather than substantive reform.

 

"In particular, it remains unclear how proposed reforms to the exit permit will work in practice, and whether under the new proposal employers will retain the ability to object to workers leaving the country.

 

"While some of the measures announced today are positive and if implemented would improve conditions for workers, they do not go nearly far enough.

 

"Rather than re-jigging and renaming the sponsorship system, the government should commit now to genuine deep-rooted reform. Also, concrete measures tackling access to justice, health care and holding the private sector accountable for abuses against migrant workers, must be put in place.

 

"We welcome the fact that a government-commissioned report is categorical about the inadequacies of the sponsorship system. Many of the findings are consistent with Amnesty International's own research. While the report also makes some good recommendations, it pulls its punches on reform of the exit permit and sponsorship system.

 

"DLA Piper's recommendations don't always reflect their analysis of the problem. The sponsorship system is not fit for purpose, and the exit permit isn't justifiable."