Qatar: pledge to end abusive 'kafala' system must lead to real change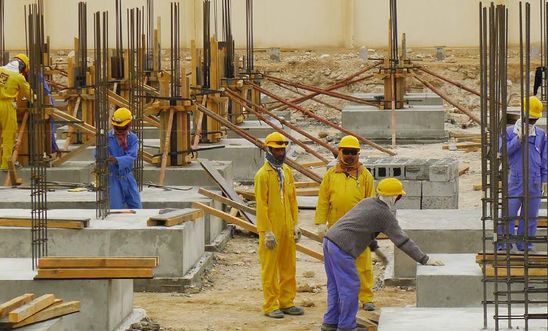 Qatar has a vast overseas workforce in the country, some involved in construction associated with the 2022 football World Cup © Amnesty International
Under notorious sponsorship scheme, migrant workers cannot change jobs without employer's permission and face criminalisation for 'absconding'
Announcement comes after numerous earlier promises over reform
'We hope this time will be different' - Stephen Cockburn
Responding to news that the Qatari government has announced it will introduce legislation to reform the country's notorious 'kafala' sponsorship scheme, Stephen Cockburn, Amnesty International's Deputy Director of Global Issues, said:
"We have long called for the end of the abusive kafala system in Qatar, and it would be a major step forward if these measures finally allow workers to return home or change jobs without restriction. 

"We will be closely scrutinising the details of this announcement and pushing for any positive measures to be quickly and fully implemented.

"The devil will be in the detail. Far too often workers have continued to face exploitation and abuse despite reforms intended to protect them. 

"We hope this time will be different, and that Qatar can truly transform its labour laws to fully respect the rights of its migrant workers. 

"This must also mean more rigorously enforcing its labour laws and holding abusive employers to account."
Migrant workers still being exploited
Qatar hosts about two million migrant workers but has - for years - failed to protect their rights under international law.
Last month, Amnesty published a report called All work, no pay showing how hundreds of migrant workers employed by three construction and cleaning companies in Qatar were forced to return to their home countries penniless because of serious failings in the country's recently-introduced dispute settlement schemes. Amnesty's report shows how Qatar's new Committees for the Settlement of Labour Disputes are overwhelmed by cases and often failing to assist desperate, destitute migrant workers.