Qatar: Former World Cup 2022 official must get a fair trial as he enters fifth day of hunger strike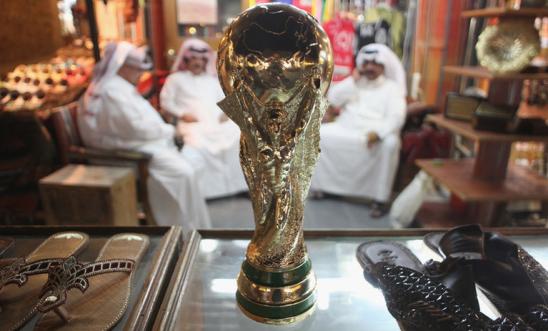 Abdullah Ibhais worked for the Qatari government body in charge of planning and delivering the 2022 FIFA World Cup © 2011 Getty Images
Abdullah Ibhais was a former communications director for Qatar's 2022 World Cup
Sentenced to five-years in prison, he enters his fifth day of hunger strike today
'Qatari authorities must immediately launch an independent investigation into claims of ill-treatment and quash his conviction and sentence if they are found to have been based on a coerced "confession"' - Lynn Maalouf
Abdullah Ibhais, the former communications director for Qatar's 2022 World Cup organisers is today entering his fifth day of hunger strike after being arrested and arbitrarily detained on 15 November.
Abdullah, a Jordanian national, is currently appealing a five-year prison sentence which, according to Human Rights Watch, was handed down after an unfair trial based on a coerced 'confession' he made without a lawyer present. The appeal process was ongoing when police seized Abdullah from his home in the early hours of Monday morning.
Lynn Maalouf, Deputy Director for the Middle East and North Africa at Amnesty International, said:
"We are deeply concerned by the detention of Abdullah Ibhais, who has already been subjected to multiple violations at the hands of the Qatari authorities. His case has been fraught with fair trial violations, and he is now on hunger strike in protest at his latest arrest.

"Abdullah Ibhais was arrested just days after he spoke publicly about his case, in what appears to amount to arbitrary detention in retaliation for speaking out about his experiences.

"Qatari authorities must immediately launch an independent investigation into Abdullah's claims of ill-treatment and quash his conviction and sentence if they are found to have been based on a coerced 'confession'.

"Qatar must ensure fair trial standards are upheld in all cases, including ensuring all defendants are provided with legal representation from the moment of their arrest." 
Threat and coercion
Abdullah Ibhais, 35, worked for the Supreme Committee for Delivery and Legacy - the Qatari government body in charge of planning and delivering the 2022 FIFA World Cup.
According to Human Rights Watch and FairSquare, Abdullah was initially arrested on 12 November 2019 on charges of misuse of public funds, bribery, collusion to commit bribery, and causing harm to the Supreme Committee.
He was detained for nearly six weeks, and for the first nine days was denied access to a lawyer. He was released from detention on 21 December 2019 and subjected to an unfair trial based on a "confession" obtained through threat and coercion.
Abdullah has said that he believes the charges he faces were in retaliation for his criticism of the handling of a migrant workers' strike in Qatar in August 2019, which Human Rights Watch and Migrant-Rights.org documented at the time.
In April this year, Abdullah was convicted and sentenced to five years in prison, a verdict which he is now appealing. His next appeal hearing is scheduled for 23 November, where he is expected to present his defence.