Protest for Nazanin Zaghari-Ratcliffe as Iranian minister set to visit UK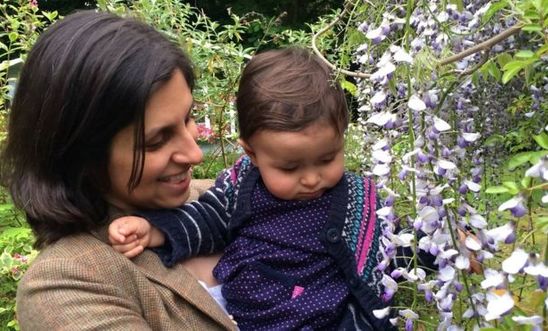 Nazanin Zaghari-Ratcliffe with her daughter Gabriella © Free Nazanin Campaign
Husband Richard Ratcliffe will attempt to deliver letters to embassy
Campaigners with 'Free Nazanin' placards will attend
Campaigners will stage a protest on behalf of the jailed UK-Iranian woman Nazanin Zaghari-Ratcliffe outside the Iranian Embassy in London on Wednesday 21 February (9.30am) ahead of an expected visit to the UK of a senior Iranian minister.
Abbas Araghchi, Deputy for Legal and International Affairs in Iran's Foreign Ministry, is expected in the UK in coming days to meet UK officials.
Richard Ratcliffe, who has led a high-profile campaign on his wife's behalf, is seeking a personal meeting with Mr Araghchi to discuss the plight of Ms Zaghari-Ratcliffe.
Zaghari-Ratcliffe, 39, a charity worker with the Thomson Reuters foundation, is serving a five-year jail sentence in Tehran's notorious Evin Prison after being convicted in 2016 in an unfair trial by a Revolutionary Court on unspecified "national security charges". Zaghari-Ratcliffe has suffered a serious decline in her physical and mental health since being jailed.
Mr Ratcliffe will be attending Wednesday's protest and will attempt to hand in a letter to the embassy raising his wife's case. He will also attempt to hand in a number of letters from individual Amnesty supporters which were sent to Zaghari-Ratcliffe in Evin Prison - letters which the prison authorities refused to accept.
Amnesty has designated Zaghari-Ratcliffe a prisoner of conscience and is calling for her immediate release. More than 100,000 people have lent their support to Amnesty's campaign for Zaghari-Ratcliffe.
Amnesty campaigners will be outside the embassy holding "Free Nazanin" and "Over 100,000 say 'Free Nazanin'" placards.
Kate Allen, Amnesty International UK's Director, said:
"Abbas Araghchi should meet Mr Ratcliffe face-to-face and explain why it is that his wife is behind bars after an unfair trial.

"We've said over and over again that Nazanin shouldn't be in jail at all, never mind for five years.

"Nazanin should be freed at the earliest possible opportunity and she should be allowed to return to Britain with her young daughter on the first available flight."