Protection plan for Afghanistan a 'glimmer of hope at a bleak year's end'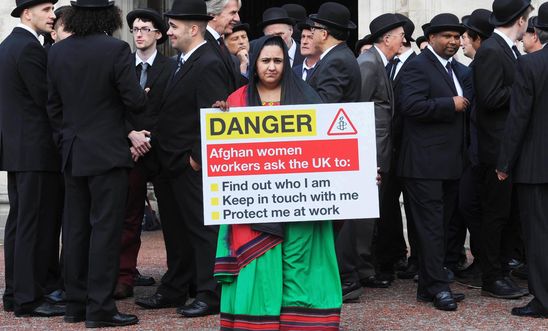 Samira Hamidi of the Afghan Women's Network
Amnesty International today welcomed the publication of an EU action plan for the protection of human rights defenders - people working in their community and in high profile roles to promote and protect human rights in Afghanistan - saying it is a 'glimmer of hope at a bleak year's end' for the country.
Amnesty has been calling for the UK and other countries to develop a plan to ensure ongoing support and protection for Afghans undertaking roles for which they are often targeted, as foreign troops leave the country.
At the start of this month, to coincide with the London Conference on Afghanistan, a coalition of charities and aid organisations of which Amnesty is part, the British and Irish Agencies Afghanistan (BAAG), released survey results showing that aid workers and rights campaigners in Afghanistan feel dramatically less safe than a year ago.
Sixty percent of the Afghans who responded reported that they felt less safe in their work during the past year, with half of survey respondents stating that either they, or their colleagues, have suffered intimidation or death threats during that time.
Kate Hughes, Amnesty UK's Afghan women Campaign Manager, said:
"The EU protection plan is a glimmer of hope at a bleak year's end for Afghanistan.

"The brave women and men who are forging the sort of Afghanistan they want to live in, need ongoing protection and support from the UK and other European countries.

"Diplomatic staff will now know who the people at risk are, and they can now turn to diplomats from EU embassies for help. If a human rights defender is being targeted by the Taliban or the authorities and are at imminent risk because of their work, they can now seek temporary protection from an embassy or apply for an emergency visa.

"We need more detail from the UK government about its precise role, but this is what tens of thousands of Amnesty supporters have been calling for.

"This is not a catch-all solution, but it is a vital safety net at a dangerous time."
Samira Hamidi of the Afghan Women's Network, said:
"This comes at a critical moment for women human rights defenders like me.

"We are the ones risking life and limb to provide essential education and health services to women and girls, to empower women to participate in peace building and political life, and help women in their communities stay safe and claim their rights.

"If the UK and other diplomatic missions translate their words into action it could literally save lives."
Amnesty has been running an "Occupational Hazards" campaign over the last year, drawing attention to the dangers women in work face in Afghanistan. Further details are available at www.amnesty.org.uk/afghanistan