Poems that make grown women cry - new anthology - 100 celebrated women on the words that move them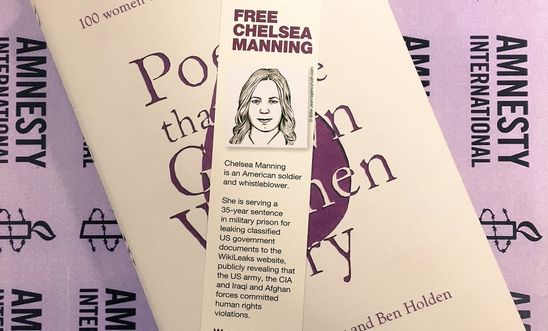 Yoko Ono, Judi Dench, Chimamanda Ngozi Adichie, Joan Baez, Olivia Colman, Joanna Lumley, Julie Christie, Michelle Williams, Miranda Hart, Pam Ayres, Vanessa Redgrave, Meera Syal, Mary Beard, Victoria Coren Mitchell, Annie Lennox, Imtiaz Dharker, Carol Ann Duffy, Elena Ferrante 
"We knew the male anthology would seem incomplete without a companion, sister volume" – Anthony Holden, Editor
Poems That Make Grown Women Cry is a selection of poems chosen by some of the world's most widely-admired women, with an introduction from each contributor explaining why they chose the specific poem. The anthology is the follow-up to the critically-acclaimed Poems That Make Grown Men Cry - 2014's best-selling poetry anthology. Like its predecessor, the new anthology was put together by the acclaimed writer Anthony Holden and his son, film producer Ben Holden, in partnership with Amnesty International.
The poems span 12 centuries (from the eighth century to the present) with themes ranging from love and loss, through mortality and mystery, to war and peace. With contributors including Yoko Ono, Judi Dench, Chimamanda Ngozi Adichie, Joan Baez, Olivia Colman, Joanna Lumley, Julie Christie, Michelle Williams, Miranda Hart, Pam Ayres, Vanessa Redgrave and Meera Syal, the unique collection provides powerful insights into the minds of women whose writing, acting and thinking are admired around the world.
Other notable contributors include Holocaust-survivor Mala Tribich, Helen Pankhurst the great-grand-daughter of suffragette Emmeline Pankhurst, and Sunny Jacobs who spent 17 years in prison following a wrongful conviction and whose partner Jesse Tafero was executed for a crime he did not commit.
There is an afterword by renowned novelist Sebastian Faulks.
Nicky Parker Amnesty UK's Head of Publishing, said:
"Poems That Make Grown Men Cry immediately intrigued Amnesty because the concept probed a well-known and discriminatory gender stereotype: that men shouldn't cry. This new book on the other hand, could seem to perpetuate the cliché that women are the ones to cry.

"But it actually challenges that notion by presenting the choices of strong, powerful women who have broken through glass ceilings and overcome the odds.

"Some women are less willing to admit to tears than others: this is the twenty-first century after all and women still have battles to fight, as Amnesty knows all too well. In Afghanistan some women have been killed for writing poetry.

"Taken as a pair these two anthologies show how poetry speaks beyond gender, to a universal experience. It is the great leveller."
Anthony Holden, the anthology's editor said:
"The male title was, of course, deliberately provocative, but also leavened (or so we like to think) with a hint of self-satire. Clearly it challenged the hoary stereotype that grown men don't cry - or aren't supposed to anyway, whether in private or in public.

"But we knew the male anthology would seem incomplete without a female counterpart, companion volume.
Ben Holden, Anthony's son and co-editor, said:
"I am the father of seven-year-old boy-girl twins. Since birth, they have cried with equal facility. Yet statistically, at the age of around ten, my son's tears will most likely dry up. He will stop crying despite the male tear duct being bigger than the female. I attribute this to cultural conditioning as much as biology.

"Considering that a sob is a cleansing release as natural as a laugh – sluicing the bloodstream of hormonal imbalance caused by the overwhelming emotion of stress – this sorry fact is a crying shame."
Mother's Day weekend Performance at The National Theatre
On Mother's day weekend there will be a live reading of some of the poems - hosted by Kate Mosse, with poems read by the women who selected them, including Imtiaz Dharker, Mariella Frostrup, Jude Kelly, Maureen Lipman, Edna O'Brien, Vanessa Redgrave, Elif Shafak and Juliet Stevenson. The event will be held at the National Theatre in London, on Friday 4 March, 6pm. Tickets are £4.
The collection, published by Simon and Schuster, is available from 25 February price £14.99.
What: Poems That Make Grown Women Cry - in performance
Where: The National Theatre
When: 6pm, Friday 4 March 2016
Tickets: £4 (£3 concessions) http://www.nationaltheatre.org.uk/discover/platforms/poems-that-make-grown-women-cry
Notes to editors
Anthony Holden is an award-winning journalist and biographer who has published more than 30 books, including lives of Shakespeare, Tchaikovsky and Laurence Olivier.
Ben Holden is a writer and film producer with credits including The Woman in Black and The Quiet Ones.
An accompanying bookmark will call for the release of Chelsea Manning, the world's most notorious whistle-blower who is currently serving a 35-year prison sentence and who was unable to contribute to the anthology because of additional restrictions on her prison conditions.