Photo-op, London: giant missiles to be delivered to Downing Street in protest at UK arms sales to Saudi Arabia (Fri, 10am)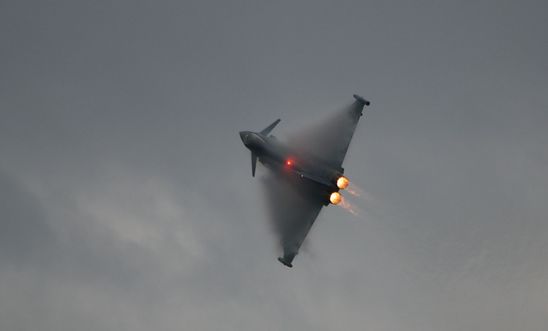 The UK has sold Saudi Arabia dozens of Typhoon war planes and thousands of missiles despite the clear risk of misuse in Yemen
Bombs to be carried to No 10 by white boiler-suited campaigners in effort to 're-stock' supplies for Saudi war machine
UK sold 2,400 missiles and 58 war planes to Saudi Arabia in past year
Campaigners will take a batch of five giant dummy missiles to Downing Street this Friday (18 March) to draw attention to the UK government's refusal to halt exports of UK-manufactured arms to Saudi Arabia despite the clear risk that they could be used to commit war crimes in Yemen.
The missiles - exact 1.8-metres-long replicas of the 500lb "Paveway-IV" weapon which are currently used by Saudi Arabia's UK-supplied Eurofighter Typhoon war planes - will bear the message "Made in Britain, destroying lives in Yemen".
Ten white-masked campaigners dressed in white hooded mechanics' boiler-suits - with white gloves and flashing "warning" lights on their heads - will carry the missiles across Westminster Bridge in central London (starting at 10.00am), taking them around Parliament Square and walking along Whitehall to arrive at the gates of Downing Street for photographs at 10.20.
Since a bloody conflict erupted in Yemen a year ago, thousands of Yemeni civilians have been killed and injured, many in devastating airstrikes conducted by a Saudi Arabia-led military coalition. The UK is a major supplier of weaponry to the Royal Saudi Air Force - issuing licences for arms exports valued at £2.8bn between April and September last year, a period when civilian deaths in Yemen soared.
Amnesty International UK Director Kate Allen said: 
"It looks like our missiles will be needed in the UK's rush to re-stock Saudi Arabia's supply of weaponry for its bombardment of Yemen.

 

"It's absolutely shocking that the UK is still selling billions of pounds' worth of weapons to Saudi Arabia even as the civilian casualties have mounted and mounted in Yemen.  

 

"Ministers need to stop burying their heads in the sand and immediately suspend arms sales for the Saudi war machine."
As well as suspending such arms sales to Saudi Arabia, Amnesty is urging the UK government to support the creation of a United Nations inquiry into the conduct of the conflict in Yemen, a conflict in which Huthi insurgents have also committed numerous breaches of international humanitarian law. Amnesty is also calling for the UK to carry out a full review of its recent arms exports to Saudi Arabia.
Government refusal to halt arms exports
Amnesty has repeatedly
called on the UK Government
to suspend all sales of arms to Saudi Arabia and its coalition partners that are capable of being used to commit human rights violations in Yemen. Last month this call was echoed by the parliamentary International Development Committee, while in December a group of leading international law experts issued a comprehensive legal opinion showing that continued UK weapons exports to Saudi Arabia breached the UK's own laws and international laws. In repeatedly refusing to halt arms sales to Saudi Arabia, UK ministers have argued that there is "no evidence of deliberate breaches of international humanitarian law" by the Saudi-led coalition in Yemen. However, attacks - whether deliberate or not - that fail to adequately protect civilians are considered violations of international law. The UK has a legal obligation to avoid supplying weapons where there's a clear risk that the weapons will be used to violate international law. 
Civilian deaths and injuries in Yemen
Last month the United Nations said that nearly 3,000 civilians, including at least 700 children, had been killed and 5,659 wounded since the conflict began in Yemen nearly a year ago. The rate of civilian deaths at the hands of the Saudi-led military coalition appears to be accelerating, with at least 62 civilians reportedly killed by coalition airstrikes in December, twice the reported number in November. Amnesty has also documented at least 30 unlawful airstrikes, including strikes that deliberately targeted civilian objects.
Paveway-IV missiles
The Royal Saudi Air Force is a major purchaser of Eurofighter Typhoon war planes which carry up to six Paveway-IV missiles during combat missions. The Paveway-IV missile is a 500lb guided bomb assembled and supplied by the Raytheon arms company's Glenrothes plant in Scotland. Last year the UK transferred 58 combat aircraft and 2,400 Paveway-IV missiles to Saudi Arabia, with the majority of this weaponry sold after Saudi Arabia's deadly intervention in the conflict in Yemen.