Philippines: Donald Trump must challenge Duterte's 'horrifying human rights abuses'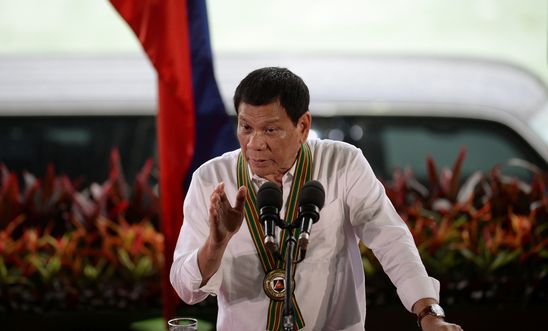 Philippines President Rodrigo Duterte
As US President Donald Trump prepares to meet leaders at the Association of Southeast Asian Nations (ASEAN) summit in the Philippines capital of Manila on 12 and 13 November, Amnesty is calling on him to condemn President Duterte's murderous 'war on drugs', and push him to investigate the unlawful killing of thousands of people around the country. 
Butch Olano, Amnesty International Philippines Director, said:
"President Trump has spoken about his ability to talk tough with foreign leaders, and this week's ASEAN summit presents a renewed opportunity to raise the horrifying human rights abuses that the region is facing.

"When he comes face-to-face with President Duterte, he'll be meeting a man whose policies are responsible for thousands of unlawful killings, including dozens of children and the extrajudicial execution of many others, which may constitute crimes against humanity.

"Trump must not keep ignoring the grave human rights situation in the Philippines. The US President's willingness to challenge the appalling record of President Duterte's 'war on drugs' is a crucial test of his administration's commitment to upholding and defending human rights."
Background
Since taking office in 2016, President Duterte and his administration have waged a lethal anti-drugs campaign that has resulted in widespread extrajudicial executions.
Between 1 July 2016 and 21 January 2017, more than 7,000 people were estimated to have been killed - an average of 34 per day. As many as 12,000 people may now have been killed since the start of the bloody anti-drugs campaign.
The Philippines National Police (PNP) has killed more than 3,800 alleged drug offenders and has paid others to kill thousands more in what may amount to crimes against humanity. President Duterte has also threatened to kill human rights activists, journalists and critics. 
Amnesty is calling on President Trump to demand that extrajudicial executions are halted, that all allegations of extrajudicial executions are investigated and that those responsible are brought to justice, including officers from the PNP. President Trump must also make clear that any future US assistance to the country will be linked to clear progress in reforming the PNP and ending impunity in the police.