Peru: Government neglecting Indigenous Peoples exposed to water containing toxic metals - new investigation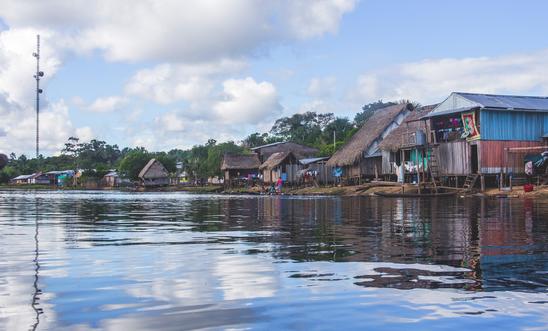 © Amnesty International
The Peruvian government is neglecting the health of hundreds of Indigenous people whose only sources of water are contaminated by toxic metals and who lack access to adequate healthcare, Amnesty International said in a new investigation published today (13 September)
A Toxic State reveals how the Peruvian government has failed to provide adequate healthcare for Indigenous communities in Cuninico and Espinar, in the country's Amazonian and Andean regions. Studies have found that their only sources of fresh water were contaminated with toxic metals harmful to human health.
A 2014 report by DIRESA (Peru's Regional Health Authority) revealed that the levels of aluminum and total petroleum hydrocarbons in the water in Cuninico exceeded those allowed for human consumption. The results of another analysis of the water in 2017 have not yet been made public.
In 2016, another study - by Peru's Ministry of Health - revealed that more than half of people in the community had abnormal levels of mercury in their blood. Alarming levels of cadmium and lead were also detected in people, including children. According to the World Health Organization, exposure to mercury and lead can cause extremely serious health problems and irreversible damage to foetal development.
Salil Shetty, Secretary General at Amnesty International.
"For decades, Indigenous Peoples across Peru have been treated like second class citizens.

"The fact that the Peruvian authorities choose to do very little in the face of evidence that hundreds of indigenous people have been exposed to toxic metals is not only cruel, but a violation of their right to health."
Community members in Cuninico, in the country's Amazonian region, told Amnesty that in 2014 the river water and the fish, on which the community depend, started to taste strange.
Women interviewed by Amnesty say they are experiencing stomach cramps, burning when urinating, allergies, skin rashes and miscarriages. They say their children suffer many similar symptoms and are not able to concentrate at school.
Conny Llerena Trujillo, a woman from Cuninico, said that her three-month-old baby, who was born in 2014, began suffering from hives after she first bathed him in the river. Medical tests confirmed he had lead in his blood, as did 65% of those tested for lead exposure in Cuninico.
The response of the authorities has been utterly inadequate. Despite the fact that the government declared a public health emergency in the area in 2017, no real steps have yet been taken to provide healthcare to the communities and address the water contamination, including investigating the source of the contamination. 
People living in the area have now resorted to collecting rainwater for their household consumption and are forced to drink contaminated river water when that is insufficient. The government has also failed to determine the causes of the contamination of the river.
The closest health centre to Cuninico is an hour and a half away by speedboat and does not have the specialists required to meet the needs of a local population exposed to toxic metals.
In the province of Espinar, in the Andean region of the country, the situation is similarly concerning. Studies conducted by the Peruvian authorities concluded that a number of entire communities in Espinar have been exposed to heavy metals and other chemical substances and that their only sources of water are contaminated.  Women living in these communities in Espinar complained of constant headaches, stomach pains, diarrhoea, burning eyes, as well as respiratory and renal problems.
Carmen Catalina Chambi Surco told Amnesty that four out of her six children are ill. One of them was born with a blocked ear and one had a cyst removed from his lung. Carmen suffers from chronic pain in her lungs, has lost hearing in one ear and has been operated on for liver stones.
A 2010 study by the National Centre for Occupational Health and Environmental Protection for Health found that nearly all the community members who were tested had either lead, cadmium, mercury or arsenic in their blood. Prolonged exposure to these toxic metals is known to cause a variety of chronic health problems including memory loss, infertility, vision loss, diabetes, liver disease, kidney failure and cancer.
In Amnesty's view, the Peruvian authorities have utterly failed in their duty to protect the communities in Espinar and guarantee their right to health.
Salil Shetty said:
"Instead of turning a blind to the desperate plight of Indigenous Peoples, the Peruvian authorities are putting their health and lives at risk. Authorities must ensure that people in Cuninico and Espinar have access to clean water and that the causes of the contamination are established and tackled."