Pakistan: Taliban targetting of university an affront to humanity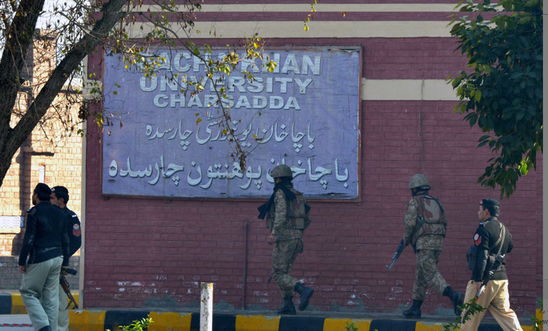 Pakistani soldiers at the Bacha Khan university following attack by militants © A MAJEED/AFP/Getty Images
"It is now painfully clear that putting to death more than 300 people…in the name of fighting 'terrorism' has done nothing to prevent such tragedies" - Champa Patel
The armed men who carried out this morning's deadly armed attack on Bacha Khan University in Charsadda, north-western Pakistan, violated the central principle of international humanitarian law by deliberately targeting civilians in what appears to be a war crime, Amnesty International said.
Responsibility for the attack has been claimed by a high-ranking Pakistani Taliban commander who also allegedly masterminded a massacre on a military-run school in nearby Peshawar in December 2014, which killed at least 142 people – including 132 children. However, there have been conflicting reports since his statement, with a senior Pakistani Taliban spokesperson condemning the attack.  
This morning's tragedy follows a string of attacks by the Pakistani Taliban on schools and other "soft targets".
Champa Patel, Amnesty's South Asia Director, said:
"Whoever is responsible for this attack showed absolute contempt for life and civilian immunity. Armed groups in Pakistan must end all such affronts to humanity and commit publicly not to attack civilians.

"In its response to this latest tragedy, the Pakistani authorities must do everything in their power to protect civilians, while respecting human rights and international humanitarian law. They should avoid regressive measures such as their resumption of executions following the 2014 Peshawar school attack.

"It is now painfully clear that putting to death more than 300 people in the year since, in the name of fighting 'terrorism' has done nothing to prevent such tragedies."
 
Media reports have hinted at dozens of deaths and injuries in today's Bacha Khan attack, but the precise number of casualties is not yet known. It is believed that at least four armed attackers have been killed in the security operation carried out by the Pakistani army, police and special forces.