Norway: 'Callous decision' to deport family to Afghanistan must be reversed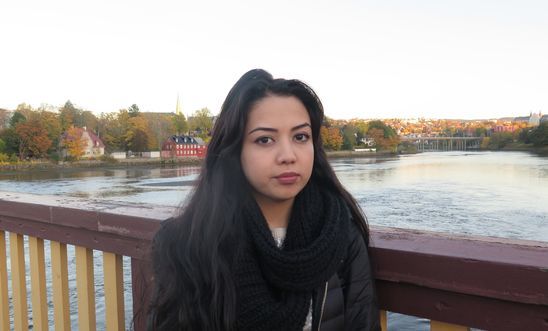 Taibeh Abbasi
Taibeh Abbasi, a 20-year-old whose case ignited huge protests, deported on Saturday
'This deportation is emblematic of the cruel and dehumanising policies of many European governments' - Massimo Moratti
The Norwegian government must immediately halt the dangerous deportation of Taibeh Abbasi and her family back to Afghanistan, Amnesty International said today.
Taibeh (20) and her brothers Eshan (16) and Yasin (22) were flown from Norway to Istanbul on Saturday together with their mother. Due to a health condition, their mother is expected to be returned to Norway, but the children are at imminent risk of being flown to Kabul.
Ten Norwegian immigration police in Istanbul are reportedly escorting the siblings to Kabul. The Norwegian government has justified the family's deportation by claiming that Afghanistan is safe for returns. This claim is contradicted by the record-high levels of violence documented across Afghanistan.
The whereabouts of the family in Istanbul remain unknown, but it is believed that they have had no access to information or contact with the outside world since they were put on a plane early on Saturday.
Massimo Moratti, Amnesty International's Deputy Europe Director, said:
"Uprooting these three young siblings from the communities where they have lived for more than seven years and deporting them alone to a warzone is an unconscionable abuse of power.
"Afghanistan is not a safe country for returns. If this heartless and unnecessary deportation is completed it will split the family, endanger these three young people's live and rob them of their futures.
"This deportation is emblematic of the cruel and dehumanising policies of many European governments, who are turning a blind eye to the reality of life in Afghanistan in order to increase the number of returns.
"Norway must immediately reverse this callous decision and allow the siblings to return to their home and their friends in Norway and it must stop the dangerous and illegal return of all asylum seekers to Afghanistan."
Taibeh Abbasi
Taibeh Abbasi was born in Iran to Afghan parents, and fled to Norway with her mother and brothers in 2012. In 2017 while living in the city of Trondheim, she was threatened with deportation kickstarting huge protests.
At the time, she said: "In Kabul there is no future for me and my brothers. We will be exposed to discrimination and physically feel what it is like to be an exposed minority. I as a girl am particularly exposed. My dreams of an education and a career will be broken."
Deportations from Norway to Afghanistan
Norway appears to deport more Afghans than almost any other European country – not just in proportion to its population, but in sheer total numbers. According to the Afghan authorities, 32% (97 out of 304 people) of forcible returns from Europe in the first four months of 2017 came from Norway.
The Institute for Peace and Economics has described Afghanistan as the 'least peaceful' country in the world.
In 2018, the United Nations documented the highest ever recorded civilian deaths in Afghanistan, including the highest ever recorded number of children killed in the conflict. There were nearly 11,000 casualties which included 3,804 deaths and 7,189 injuries.