Northern Ireland: women 'failed and forgotten' amidst attempts to roll back abortion rights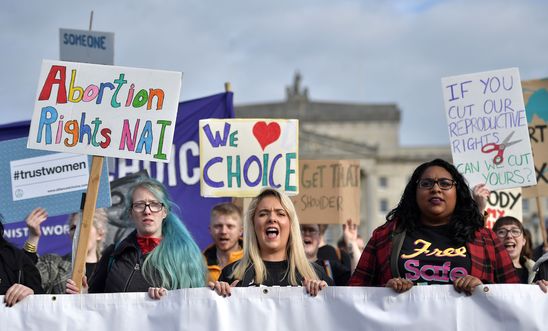 © Getty Images
Amnesty opposes DUP motion and Sinn Féin amendment that would support restricting abortion rights
Meanwhile women and girls left without vital abortion services, despite regulations being in place for two months
'Sinn Féin and other parties must not prop up a dangerous anti-choice agenda' – Grainne Teggart
Sinn Féin and other parties must prioritise women and girls' rights and safety, Amnesty International said, as it urged MLAs to reject a DUP motion that seeks to restrict abortion rights in Northern Ireland.
The DUP motion, which focuses on serious foetal impairment, is being debated in the Northern Ireland Assembly tomorrow. Sinn Féin has tabled an amendment to the motion, which would effectively support the DUP's position.
The motion will not change abortion legislation - which has been law since 21 October 2019 - nor abortion regulations in Northern Ireland.
Grainne Teggart, Amnesty International's Northern Ireland campaign manager, said:
"This motion will change nothing legally but is a clear signal that the DUP wants to roll back the hard-won rights of women and girls.

"Sinn Féin and other parties must not prop up a dangerous anti-choice agenda – instead, they should support human rights and show they're on the side of women.

"Women and girls are being failed and forgotten – left without vital abortion services, despite regulations coming into force two months ago.

"The priority right now should be women's safety and well-being. The Department of Health must urgently commission services and ensure they are accessible to all who need them. This is where MLAs should be focusing their attention."
Women 'failed and forgotten'
Two months since abortion regulations came into force in Northern Ireland on 31 March, the Department of Health has yet to commission any services, meaning women and girls have been left without the vital healthcare beyond the 10 weeks gestation period. It is now more than seven months since abortion was decriminalised in Northern Ireland.
Additionally, the COVID-19 pandemic has made it unsafe to travel for an abortion, severely restricting women's ability to access the service outside Northern Ireland.
Despite the rest of the UK introducing emergency telemedicine that allows women to safely take both abortion pills at home, ensuring women can continue accessing the healthcare during the pandemic, Northern Ireland has not introduced such measures.
ENDS