Northern Ireland: Warrants which led to arrests of journalists to be quashed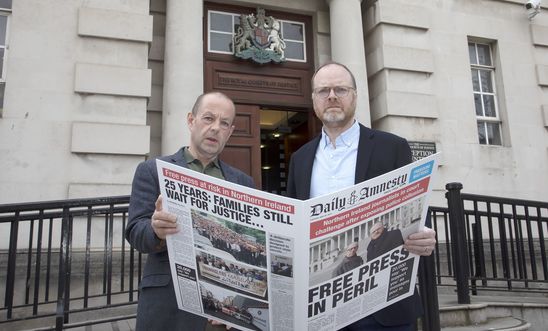 Amnesty International UK has welcomed the declaration by Northern Ireland's Lord Chief Justice, Sir Declan Morgan, that Belfast High Court is "minded to quash" the warrant which authorised police raids on the homes and offices of investigative journalists Trevor Birney and Barry McCaffrey.
Patrick Corrigan, Amnesty International's Northern Ireland Programme Director, said:
"Today is a good news day for press freedom in Northern Ireland and across the UK.

"This is a vindication of Trevor Birney and Barry McCaffrey's vital work in investigating the events of that horrific night in Loughinisland in 1994, and the actions of the police in allowing the killers to go free.

"Almost 25 years after the massacre, it is not lost on anyone that the only people so far to face a court room in connection with the massacre are two journalists who bravely exposed the extent of police collusion with the murderers.

"Journalists must be free to investigate issues of public concern without fear of arrest and imprisonment.

"As a result of their wrongful actions, the police have damaged public confidence in policing in Northern Ireland."
Arrested and questioned
In a judicial review at Belfast High Court, Trevor Birney and Barry McCaffrey challenged the legitimacy of the search warrants used by police to carry out the raids. Both the Police Service of Northern Ireland (PSNI) and Durham Constabulary are involved in the ongoing criminal investigation.
Trevor Birney and Barry McCaffrey were arrested and questioned by police in August 2018 in connection with the documentary film 'No Stone Unturned'. They were arrested in connection with an alleged breach of the Official Secrets Act, relating to confidential documents about the police investigation of the murder of six men in a bar in the village of Loughinisland, County Down, in 1994.
A 2016 report from the Police Ombudsman for Northern Ireland found that there had been collusion between the Royal Ulster Constabulary and the Ulster Volunteer Force killers, and that the subsequent police investigation had been undermined by a desire to protect those responsible for the massacre.
The 2017 film, 'No Stone Unturned' – directed by Oscar-winning film-maker Alex Gibney – explored the unsolved killings and police investigation in detail, and named one of the alleged killers.
In August last year, it was estimated that up to 100 police officers from the PSNI and Durham Constabulary raided the journalists' homes and offices, seizing documents and computers, which the men are fighting to have returned.
The pair have not been charged and remain on bail until September 2019.