Northern Ireland: Use of water cannons and plastic bullets 'extremely alarming'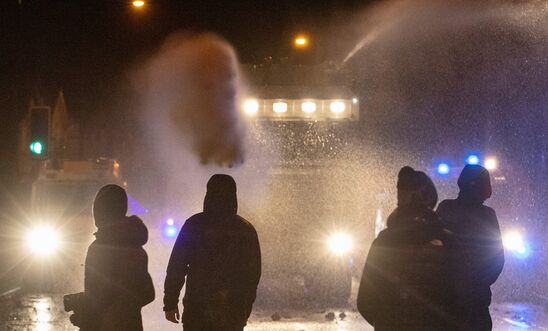 © Photo by PAUL FAITH/AFP via Getty Images
Police used water cannons and Attenuating Energy Projectiles (AEPs) during disorder in Belfast
Responding to the police use of water cannons and Attenuating Energy Projectiles (AEPs) – commonly known as plastic bullets – in recent days in Belfast, Patrick Corrigan, Amnesty International's Amnesty International's Northern Ireland Programme Director, said:
"Police using water cannons and plastic bullets is an extremely alarming development, particularly if deployed against children.

"The public disorder of the last week has brought serious risks to life and limb, and the police must be able to carry out their duty to protect the public. It is an unenviable task, and it is distressing to hear so many officers have already been injured in the line of duty.

"However, the police also need to avoid tactics that exacerbate tension, and instead adopt an approach that de-escalates the situation.

"We have very serious concerns that the potential for AEPs to cause serious injury and death, particularly to the most vulnerable in society such as children, a risk highlighted by the PSNI's own guidance on AEPs. With so many children on the streets, and the risk of serious injury via direct hit or ricochet, there is a significant risk in their use in current circumstances.

"Water cannons are inherently indiscriminate and have the potential of causing serious injury and even death. They can cause all manner of injuries by forcefully knocking a person over, can cause permanent loss of sight, or can pick up loose objects and propel them as missiles. In any volatile situation, their deployment could be a recipe for disaster.

"All such uses of force will require investigation by the Police Ombudsman for Northern Ireland."
Amnesty International has previously documented concerns over the use of water cannons in several countries and states, including Hong Kong, Thailand, South Korea and Haiti.