Northern Ireland: Revulsion at repeat racist arson attack on Belfast multi-cultural centre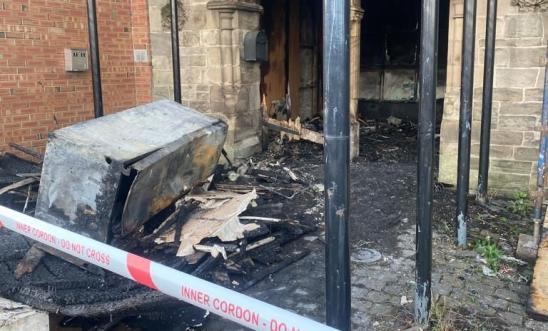 © Belfast Multi Cultural Association
Another racist arson attack last night on Belfast Multi-Cultural Association
Still no accountability for the attack in January 2021
'We are disgusted, but sadly unsurprised, that there has been another arson attack' – Patrick Corrigan
'We feel badly let down that no-one was held accountable for last year's attack. And now it has happened again. Something must change' - Muhammad Atif
A trustee from the Belfast Multi-Cultural Association has said he is "devastated" after another arson attack on their building on Donegall Pass in the city last night.
This is not the first attack on the centre. In January last year an arson attack largely destroyed the building that helps the community by providing emergency food.
Both attacks are being treated as racially motivated hate crimes by the police, but no-one has been charged with carrying out the attack last year.
Muhammad Atif, a trustee of the Belfast Multi-Cultural Association, said:
"We do not have the words to describe how we are feeling. We are devastated and heartbroken at another attack on our premises.

"We are still in the process of rebuilding from the arson attack last year. Roof repair work was completed just this week.

"We feel badly let down that no-one was held accountable for last year's attack. And now it has happened again. Something must change.

"But we give this commitment. Our work goes on and we will come back stronger – because we feel an overwhelming duty to serve the people of Belfast. The flames of hatred will never diminish that."
Patrick Corrigan, Northern Ireland Programme Director of Amnesty International, said:
"We are disgusted, but sadly unsurprised, that there has been another arson attack on the Belfast Multi-Cultural Association.

"We feared this could happen again given that those responsible for last year's attack have gone unpunished.

"Those behind violent race hate attacks in Belfast are emboldened by the near-impunity they appear to enjoy.

"Police figures show that in 90% of cases of racially motivated hate crime in Northern Ireland – mostly attacks on people and property – no-one is held to account.

"This cannot go on. Those responsible for the attack in January last year must be held accountable, as must those for last night's attack.

"People from ethnic minority backgrounds must be able to live lives free of fear."
Figures published in February by the Police Service of Northern Ireland (PSNI) revealed that 1,305 racist incidents and 943 racist crimes have been recorded by the police for the year ending December 31, 2021 - an increase of 366 racist incidents and 313 racist crimes on the previous 12 months.
The most common racist hate crimes to take place are assault and criminal damage. Only one in ten (10%) racist hate crimes results in charges or summons. That is around half the rate (20%) seen with other crimes.
The Belfast Multi-Cultural Association building was used as a food bank, with volunteers distributing packages to vulnerable people during the Covid-19 pandemic. The Association's volunteers are now running their services from new premises, while the building is subject to extensive repair work.