Northern Ireland: Redress must be part of Programme for Government, child abuse survivors tell deputy First Minister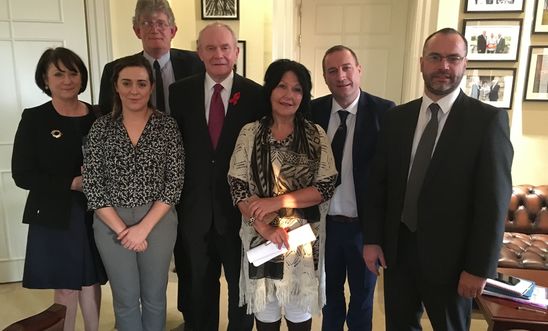 A comprehensive redress scheme for victims of historical child abuse must be part of the new Northern Ireland Programme for Government, child abuse survivors have told Deputy First Minister Martin McGuinness and Junior Minister Megan Fearon today at a meeting at Stormont Castle.
Child abuse survivors and experts have developed a model compensation scheme which they want the incoming Northern Ireland Executive to adopt.
They set out a detailed framework for an out-of-court redress scheme for survivors of institutional child abuse in Northern Ireland as an alternative to costly civil court proceedings. The report recommends two categories of compensation for survivors – a common experience payment for all former residents of homes where abuse was endemic and compensation for cases of individual abuse.
Representatives of the Panel of Experts on Redress, an independent initiative of victim and survivor groups, individual survivors, academics, lawyers, and human rights experts, including Amnesty International, met with the Ministers today in advance of the end of the Historic Institutional Abuse Inquiry, chaired by Sir Anthony Hart, which is scheduled to report to the Executive in January 2017.
Jon McCourt of Survivors North West, who suffered abuse while at St. Joseph's Children's Home (Termonbacca) in the late 1950s and early 1960s, said:
"Today we had a very positive meeting with the deputy First Minister and Junior Minister about the need for a victim-centred approach in providing redress for survivors of institutional child abuse. As abuse survivors, we have set out clearly the sort of redress scheme which we now want Ministers to deliver.
"The Inquiry chairperson, Sir Anthony Hart, has already said that he will recommend a financial compensation scheme when he reports in January 2017, but the time to plan and budget for that scheme is now when the Programme for Government is being finalised."
Margaret McGuckin of Survivors and Victims of Institutional Abuse (SAVIA), who suffered abuse from the age of three in Nazareth House in Belfast, said:
"With the Abuse Inquiry about to deliver its report to the Executive Office, our Ministers need to plan now for the establishment of an appropriate redress scheme and that's why we are at Stormont Castle today asking for its inclusion in the Programme for Government and budget.
"Martin McGuinness has committed to using his position to support us in seeing justice done after all the years of damage which so many of us suffered as children, and we thank him for that. This issue is both important and pressing and the government must ensure that victims are full participants in the decision-making process ahead."
Marty Adams, who represents many abuse survivors from state-run institutions called for the First Minister to meet with victims:
"We had a very positive meeting today with the deputy First Minister. We are now calling for the First Minister to sit down with abuse victims and survivors to hear our concerns."
The Historic Institutional Abuse Inquiry, chaired by Sir Anthony Hart, is scheduled to report to the Executive in January, 2017.  The Inquiry on November 4, 2015, after 157 days of public hearings and 392 witnesses, stated:
"… what we can now say is that from the evidence we have heard so far we will recommend that there should be a scheme to award financial compensation to those children who suffered abuse in children's homes and other institutions in Northern Ireland between 1922 and 1995."
Representatives of the Panel of Experts on Redress in attendance at the meeting today were Jon McCourt, Survivors NW; Margaret McGuckin, SAVIA; Marty Adams, SAVIA / state-run homes; Prof Patricia Lundy, Ulster University; Patrick Corrigan, Amnesty International