Northern Ireland: pressure on UK Government to amend same-sex marriage law welcomed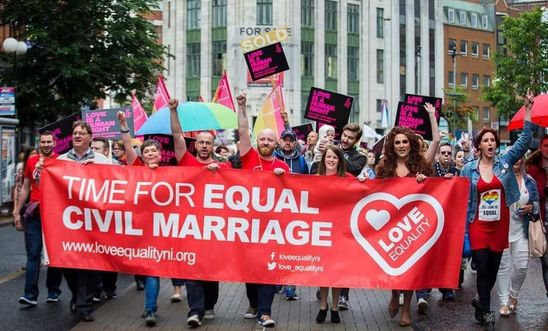 Conor McGinn MP tables Northern Ireland amendment to marriages and civil partnership bill
'This could be the start of Westminster finally treating same-sex couples in Northern Ireland as equal citizens' – Patrick Corrigan
Amnesty International has welcomed a move at Westminster which could see the UK Government forced to take the first steps to introduce marriage equality legislation to Northern Ireland.
Conor McGinn MP, who is campaigning for same-sex marriage to be legalised in Northern Ireland, has tabled an amendment to the Civil Partnerships, Marriages and Deaths Bill during its Committee Stage hearing today (18 July), calling for an official Government report on how the law should be changed to bring about between same-sex couples and other couples in terms of civil partnerships and marriage.
Mr McGinn's amendment calls on the Government to extend this report to Northern Ireland and to specifically set out what steps should be taken to change the law.
Mr McGinn has called on the Government to accept his new amendment as a way of clearly setting out how the law can change to deliver equality for same-sex couples in Northern Ireland, in line with the rest of the UK.
Patrick Corrigan, Northern Ireland Director of Amnesty International UK, said:

"We can't underestimate the importance of this amendment – it could be the start of Westminster finally treating same-sex couples in Northern Ireland as equal citizens.

"It's so degrading to deny same-sex couples in Northern Ireland the opportunity to marry, whilst their neighbours and members of the LGBT+ community in every other part of the UK can enjoy this right. The Government must get behind this amendment and finally right this wrong.

"The vast majority of people and politicians in Northern Ireland want to see marriage equality in their country – Westminster now has a chance to make this happen."