Northern Ireland politicians call for release of Irishman Ibrahim Halawa jailed in Egypt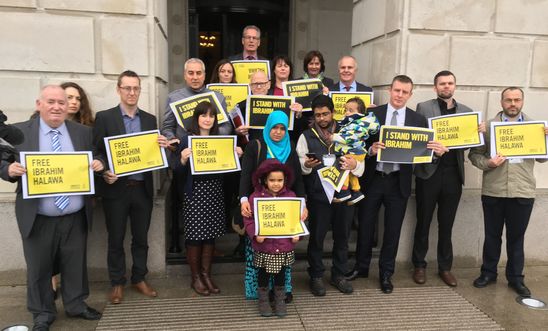 Northern Ireland Assembly members with Ibrahim Halawa's family at Parliament Buildings, Stormont
Northern Ireland Assembly members (MLAs) have come together in a show of solidarity to call for the release of 20 year-old Irishman, Ibrahim Halawa, who has been unlawfully imprisoned in Egypt for more than three years 
On Saturday 12 November, Ibrahim Halawa is due to face a mass trial alongside 493 other defendants. His trial has been postponed on fifteen previous occasions.
MLAs joined Mr Halawa's sister Khadija Halawa and representatives of Amnesty International, which is campaigning for the Irishman's release, on the steps of Parliament Buildings, Stormont.
Amnesty International has declared Ibrahim Halawa a Prisoner of Conscience. He was arrested and has been arbitrarily detained for more than three years solely for peacefully exercising his right to freedom of expression and freedom of assembly.
Ibrahim Halawa, who faces a possible death penalty, was a minor when he was first arrested in August 2013 while taking sanctuary in the Al Fath mosque. While Ibrahim's sisters were released on bail and are safe in Ireland, Ibrahim has been incarcerated for more than three years without trial. Amnesty International has conducted a thorough review of the prosecution evidence and concluded that Ibrahim could not have committed the violent crimes with which he has been charged.
Patrick Corrigan, Northern Ireland Programme Director of Amnesty International, said:
"We welcome the support of members of the Northern Ireland Assembly for Mr Halawa's immediate release and urge the Irish Government to continue their work on his behalf and to use every means at their disposal to secure his release."
"This young Irish citizen has spent more than three years living in horrific conditions, without access to proper medical care, and without any prospect of a fair trial.
"Amnesty International remains gravely concerned for his physical and mental wellbeing and we reiterate our call for his immediate and unconditional release."