Northern Ireland: political crisis cannot be allowed to hinder local response to refugee crisis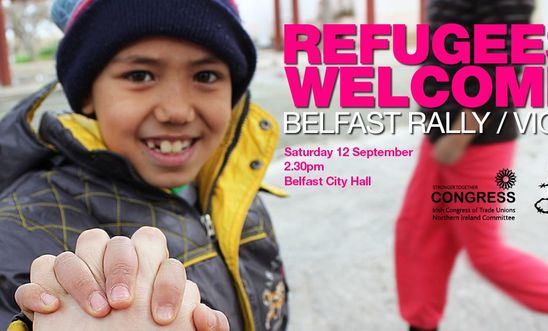 Amnesty International has warned that Northern Ireland's political crisis cannot be allowed to hinder the region's response to the refugee crisis.
With Northern Ireland's political institutions facing possible collapse, Amnesty International's programme director Patrick Corrigan said that it was important that regional government retained its capacity to help refugees fleeing war-torn Syria.
On Monday the UK Government said it would accept 20,000 Syrian refugees over the next five years, while the Irish Government today announced it would resettle 4,000 refugees under a European Union plan, with the first to arrive in the next few weeks. Northern Ireland political leaders have previously indicated their support for resettling significant numbers of refugees in the region. 
Patrick Corrigan said:
"The scale of the refugee crisis makes Northern Ireland's political problems pale in comparison. The refugee situation is the greatest humanitarian crisis which Europe has faced since the end of the second world war - we must be part of the solution.
"The people of Northern Ireland stand ready and willing to help. Government here must retain the ability to respond to that urgent need, whatever the background political instability.
"All parties in the Assembly recently made positive statements about a local response to the refugee crisis. It is important that government is able to follow through on those commitments and that Northern Ireland does not become the only part of the UK or Ireland not helping to resettle those fleeing war in Syria and elsewhere."
This Saturday at 2:30pm, a Syrian refugee to Northern Ireland will address a 'refugees welcome' rally at Belfast City Hall, organised by the Irish Congress of Trade Unions and Amnesty International. Similar demonstrations will be staged in Derry/Londonderry and Omagh as part of a day of action.