Northern Ireland: Lyra McKee's partner makes equal marriage appeal to Prime Minister ahead of Belfast March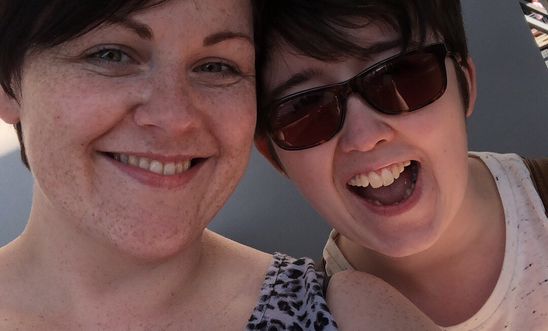 Thousands to march in Belfast for marriage equality on Saturday
Sara Canning to address rally at Belfast City Hall
"Couples like Lyra and I should not have to wait a day longer for the law to recognise us as equals." – Sara Canning
Sara Canning, partner of journalist Lyra McKee who was shot dead in Derry last month, has called for the UK Government to extend same-sex marriage legislation to Northern Ireland.
She was speaking ahead of a march for marriage equality to be held in Belfast on Saturday, which she is due to address.
Sara Canning said:
"Lyra and I wanted to get married, surrounded by our families and friends, because we shared a love which meant we wanted to spend the rest of our lives together.

"But, as things stand, the law in Northern Ireland says that the love that Lyra and I shared is not equal.

"It is unbelievable, and simply unacceptable, that in 2019, this discrimination is allowed to continue in any part of the UK or Ireland.

"With Stormont out of action for almost the last two and a half years, we need the UK Government to step in.

"That's what I told Theresa May at Lyra's funeral and that's what I will be saying at the march for marriage equality in Belfast. I hope the Prime Minister is listening.

"Couples like Lyra and I should not have to wait a day longer for the law to recognise us as equals."
Organisers say they expect thousands to join the march for marriage equality this Saturday, which will begin in the Belfast's Writers' Square at 1pm ahead of a rally at Belfast City Hall at 2.15pm.
Patrick Corrigan, Amnesty International's Northern Ireland Director and a member of the Love Equality campaign which is organising Saturday's march, said:
"Stormont has proved incapable of delivering marriage equality for the LGBT community, despite massive support among the Northern Ireland public for a law change.

"The UK Government likes to champion it's record on LGBT rights, but has shamefully ignored cross party calls for progress on same-sex marriage in Northern Ireland.

"We are calling on people, who want a different and fairer Northern Ireland than politicians have so far allowed, to join us on the streets of Belfast this Saturday.

"We are making a demand for equal rights for all, a demand which must be heard in the corridors of Stormont and Westminster."
The Love Equality campaign, organisers of the march, are demanding that any re-established Stormont government must deliver marriage equality legislation to bring the region into line with the rest of the UK and Ireland. In the continued absence of devolved government, they want the UK Government to end discrimination against same-sex couples in Northern Ireland by passing legislation at Westminster.
Love Equality march timings: Saturday 18 May 2019
The march in Belfast

will gather from 1pm in Writers' Square, departing 1.45pm.

Rally

with speeches from stage in front of Belfast City Hall at approximately 2.15pm.
Background
The Love Equality campaign for equal civil marriage in Northern Ireland is led by the Rainbow Project, Amnesty International, Irish Congress of Trade Unions, Cara-Friend, NUS-USI and HereNI.
Northern Ireland is the only part of the UK or Ireland which still bans marriage for same-sex couples, despite majority support among the public and in the Northern Ireland Assembly. In November 2015, a majority of MLAs in the Assembly voted to support equal marriage, but the measure was blocked by the DUP using a Petition of Concern, a voting mechanism designed to protect the rights of minorities in Northern Ireland.
An April 2018 Sky News poll showed 76% support for marriage equality amongst the Northern Ireland public.
At least 55 out of 90 MLAs in the Assembly have publicly voiced their support for marriage equality legislation.