Northern Ireland: 'Last Troubles trial' gets underway in Belfast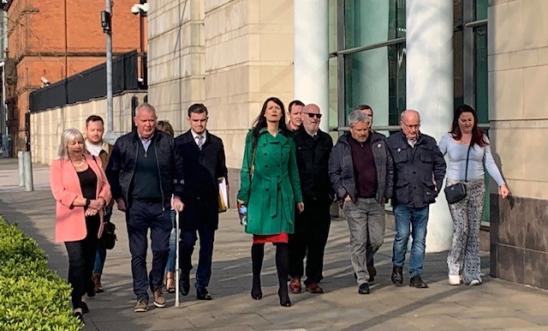 The McAnespie family supported by Grainne Teggart in green
'It has been a long and torturous 34 years. Aidan is missed every day.' – Sean McAnespie, Aidan's brother
Amnesty International has warned that the trial starting today (28 March) of a soldier for a Troubles-related killing could be the "last Troubles trial" as UK Government plans to legislate for a de facto amnesty for conflict-related abuses. The McAnespie family is calling on the UK Government to abandon these plans and ensure every victim has access to justice.
Former Grenadier Guardsman, David Jonathan Holden (51), will appear at Laganside Courthouse in Belfast and face trial for the manslaughter of Aidan Martin McAnespie on 21 February 1988.
The trial comes ahead of a planned highly controversial bill by the UK Government which would introduce a de facto amnesty for human rights violations committed during the Northern Ireland conflict, including a statute bar on Troubles-related prosecutions. The plans have been met with widespread opposition from victims and victims' groups, Amnesty International, Northern Ireland political parties, the Irish Government, as well as prompting concerns from the US Congress, United Nations and the Council of Europe Commissioner on Human Rights.
Speaking from the Court this morning, Grainne Teggart, Northern Ireland Campaigns Manager at Amnesty International UK, said:
"The McAnespie family have waited for over three decades to get to this point. If the UK Government proceeds with its plans, this could be the last 'Troubles' trial, and other families will be blocked from ever achieving justice.
"This trial today is simply the due process of law, which must apply to all without favour.
"After decades of failing victims by refusing to put in place mechanisms that would deliver truth, justice and accountability, the UK Government is now planning the ultimate betrayal by seeking to legislate for a de facto amnesty and permanently deny any chance of justice.
"The government must abandon their plans and ensure the rights of all victims are vindicated."
Sean McAnespie, brother of Aidan McAnespie, said:
"It has been a long and torturous 34 years. Not a day passes when we don't miss Aidan and feel the pain of his loss. Today marks the beginning of the end of our journey. Other victims must also have a chance for justice. The UK Government's plans are an insult to every victim. It's time to properly deal with the past".
Darragh Mackin, solicitor for the family, said:
"Today is the culmination of a 34-year battle for the family to have the evidence presented before a court of law. It is a cornerstone of any democracy where evidence points to commission of criminal offence, the individual should face trial. Today is no exception - this is the criminal justice process in action. There can be no limitation or amnesty for cases such as these."