Northern Ireland: 'free press under threat,' says Amnesty, as investigative journalists face further police questioning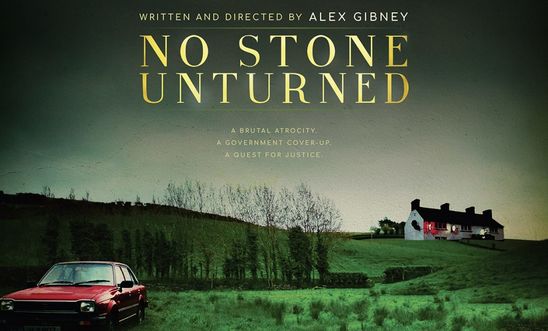 No Stone Unturned - Finepoint Films
'The arrest of two of the most widely respected journalists in Northern Ireland has sent a shiver of fear through media in the region.' – Patrick Corrigan
Freedom of the press is under threat in Northern Ireland, Amnesty International has warned, as two award-winning investigative journalists face further police questioning today about source material for their award-winning film about state collusion in the killing of civilians.
Amnesty has said it is deeply concerned at the arrest of journalists Trevor Birney and Barry McCaffrey, who worked on the documentary film 'No Stone Unturned' about the 1994 Loughinisland massacre. The pair were first arrested in August and are due to face further questioning by police in Belfast this afternoon.
The arrests are in connection with the alleged theft of confidential documents from the Police Ombudsman of Northern Ireland relating to the police investigation of the shooting of six men in a County Down bar in 1994. The police raided both the journalists' homes and offices, seizing documents and computers, which the men are fighting to have returned.
A 2016 report from the Ombudsman found that there had been collusion between the police and the Ulster Volunteer Force (UVF) killers, and the police investigation had been undermined by a desire to protect those responsible for the massacre.
Yesterday, a high court judge rejected an application by former police officers to quash the Police Ombudsman's report on the killings.
The 2017 film, 'No Stone Unturned', on which the journalists worked, explored the unsolved killings and police investigation in detail and named one of the alleged killers.
Patrick Corrigan, Amnesty International's Northern Ireland Programme Director, said:
"Be under no illusion, the arrests of journalists and the seizure of their documents and computer equipment threatens press freedom in Northern Ireland.

"The arrest of two of the most widely respected journalists in Northern Ireland has sent a shiver of fear through media in the region.

"Journalists must be free to investigate and expose issues of public concern without fear of arrest. When the police are arresting journalists who have investigated police collusion in the killing of civilians, rather than the killers and their helpers, then we all should be deeply worried.

"Unless the police can demonstrate that the arrests and seizure of the journalists' materials were reasonable, proportionate and necessary in a democratic society, their actions amount to an assault on the freedom of the press."