Northern Ireland: equal marriage campaigner calls for politicians to "respect the will of the people"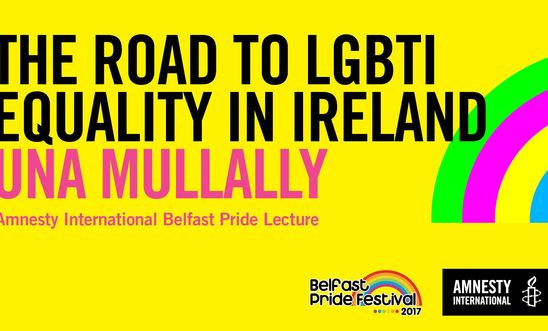 A leading campaigner for marriage equality in the 2015 Irish referendum has called for Northern Ireland politicians to respect "the will of the people, who overwhelmingly support marriage equality".
Irish marriage equality campaigner and writer Una Mullally, speaking ahead of the Amnesty International Belfast Pride Lecture, which she will deliver on Tuesday (1 August) evening on the theme, The Road to LGBTI Equality in Ireland, said:
One of the things we need to work on as an island as a whole, is greater solidarity and communication between communities north and south. This is acutely apparent in how the LGBT community's rights have been divided on the island.

It is absurd that a lesbian or gay couple can get married in Dundalk but not Newry, Letterkenny but not Strabane, Clones but not Enniskillen. It is absurd too, that politicians continue to veto the equality and rights of people in Northern Ireland, disrespecting the will of the people, who overwhelmingly support marriage equality in the North. On what basis is this being done other than prejudice?

Marriage equality is not just an issue for lesbian and gay couples, it is not just about weddings, it is not just about extending access to an institution to people who have been excluded from it. It is about recognising that all of us are equal and deserve to be seen and treated as such. 

The politicians who oppose marriage equality need to reflect on the impetuses that are pushing them to do so. Prejudice, discrimination, meanness, and a lack of charity and fairness are not Christian values.
Una Mullally is an Irish Times columnist and author of In The Name of Love, an oral history of the movement for marriage equality in Ireland. She was active in the marriage equality referendum in the Republic of Ireland in 2015, advocating for a 'Yes' vote, appearing on television and radio debates, and co-founding Straight Up For Equality, an online platform for straight people to share their support for marriage equality.
She is the independent Chair of the group currently overseeing the Republic of Ireland's first ever National LGBT Youth Strategy, appointed by the Minister for Children and Youth Affairs, Dr Katherine Zappone.
Her speech will reflect on the distance travelled towards equality for the LGBTI community on both sides of the border, as well as the battles still to be won, such as the campaign for equal marriage in Northern Ireland.
The event follows the Love Equality march in Belfast at the beginning of July when thousands of people took to the streets to call for equal marriage. A 2016 opinion poll by Ipsos Mori indicated that 70% of people in Northern  Ireland support legislation to allow for equal marriage for same-sex couples.
The speech, at Belfast's Oh Yeah centre, will be followed by question and answer session chaired by broadcaster William Crawley. All tickets for the lecture have already gone.
The annual Amnesty International Belfast Pride lecture has been delivered in recent years by Scottish Conservative leader, Ruth Davidson MSP; House of Commons Speaker, John Bercow MP; and drag queen and campaigner, Panti Bliss.