Northern Ireland: With domestic violence at all-time high, funding urgently needed for frontline groups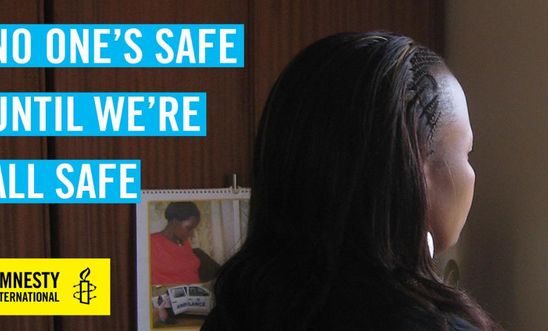 Domestic violence figures at highest level since records began
Amnesty International is urging the Northern Ireland Executive to provide emergency funding to groups helping victims of domestic violence. The human rights organisation says that significant additional funding has been made available to women's refuges and other groups in every other part of the UK except Northern Ireland.
Amnesty's call comes when new figures show that incidence of domestic violence were at an all-time in Northern Ireland before the start of the COVID-19 lockdown in March and have increased since.
Last week, the Police Service of Northern Ireland (PSNI) revealed that they have received at least 3,755 calls related to domestic abuse since the coronavirus lockdown began. Pre-lockdown, domestic incidents and crimes in Northern Ireland were already running at a 15-year high, according to figures published on Friday by the Northern Ireland Statistics and Research Agency. Officers recorded 18,640 cases, equivalent to 51 a day and representing an increase of 2,476 (15%) in the 12 months up to the end of March.
Last month, Justice Minister Naomi Long said that at least three people have been killed in domestic violence incidents since the start of the lockdown.
Amnesty International says that funding has not been made available by the Northern Ireland Executive to match the scale of the problem.
The Scottish Government has given £1.35 million to Scottish Women's Aid, while the UK Government committed an additional £28 million package for domestic violence victims and £3.8 million for community-based domestic abuse and modern slavery services in England and Wales. While these funds don't come close to what the sector has called for (Women's Aid has estimated the sector needs at least £48 million to cope with COVID-19) and 'by and for' migrant and BME services urgently need ring-fenced funds, the announcements at least acknowledge the urgent need and are a step in the right direction.
Patrick Corrigan, Amnesty International's Northern Ireland Programme Director, said:
"Two months into lockdown, when we are still being urged to stay at home, incidents of domestic violence are at an all-time high, and the demand for domestic abuse services has gone through the roof. Yet, women's refuges and other charities which support victims here are still waiting for desperately needed additional funding.

"Significant extra money has been made available in every other part of the UK, but not in Northern Ireland.

"Amnesty wrote to the Executive asking for this funding to made available at the start of April. Six weeks on, we have received no reply, and beyond some very small-scale funding provided by the Housing Executive and the Safeguarding Board, we are not aware of any additional provision for frontline groups to deal with the rise in incidents arising from the coronavirus lockdown.

"With the lockdown set to continue, Northern Ireland faces ongoing high demand on frontline domestic abuse services, on refuges and counselling services; services which are already incurring additional costs and under strain. This is a life and death issue and should be a matter of urgency for the Executive."