Northern Ireland: Child abuse survivors tell Secretary of State: "deliver redress if Stormont can't"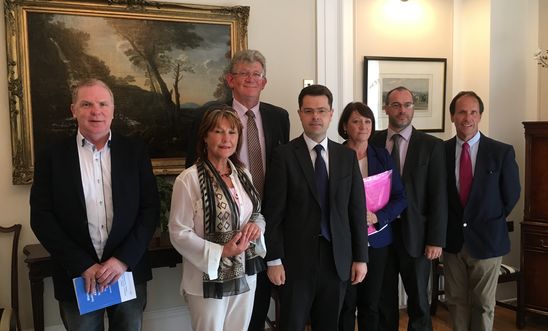 James Brokenshire MP, NI Secretary of State, meets Panel of Experts on Redress at Stormont House
Victims of child abuse have told the Secretary of State that they expect him to set up a redress scheme without delay if devolved government is not re-established at Stormont in the coming months.
The abuse survivors, part of the Panel of Experts on Redress, on which Amnesty International is also represented, met the Secretary of State today at Stormont House, where they provided him with a 30-page document and letter calling for action and a start to negotiations with victims. The detailed briefing paper from survivors is based on widespread consultation with abuse victims across Northern Ireland.
Victims are angry that there has been no progress in delivering apologies, a redress scheme and support services for victims because of the absence of a functioning Northern Ireland government. They want UK government to step in without delay, if there is no return of the Northern Ireland Executive in the Autumn.
The report of the Historical Institutional Abuse Inquiry was published in January 2017, just days after the collapse of the power-sharing Executive at Stormont. That has meant there have been no Ministers to act on the recommendations contained in the report.
Margaret McGuckin, one of the members of the Panel of Experts on Redress, who suffered abuse as a child at Nazareth House children's home, said:
"Today we put the Secretary of State on notice that we expect urgent action from him to establish a redress scheme which meets the needs of victims, should Stormont not be up and running again after the summer.
"Victims of child abuse have been waiting their whole lives for justice. Now they have been hit with further uncertainty and no government, just when they need it most. For abuse survivors, justice delayed truly is justice denied. That is why the UK government must deliver if the Northern Ireland government cannot.
"Right now, we need officials from The Executive Office to sit down with victims to co-design a redress scheme which meets the needs of survivors, rather than simply relying on the recommendations in the Inquiry report, which fall short in a number of significant ways."
Meeting the Secretary of State today were victims and survivors of institutional child abuse, including Margaret McGuckin and Cyril Glass, Survivors and Victims of Institutional Abuse (SAVIA); Jon McCourt, Survivors North West; Gerry McCann, Rosetta Trust, plus Professor Patricia Lundy of Ulster University and Patrick Corrigan of Amnesty International who have been supporting survivors in their campaign for justice through the Panel of Experts on Redress.