Northern Ireland: Cameron must heed victims' call for justice today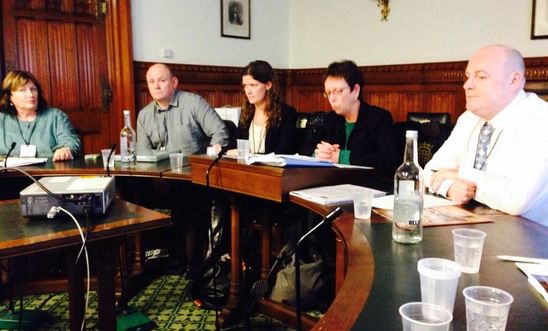 Now is the time for Prime Minister David Cameron to deliver truth and justice for the victims of Northern Ireland's three decades of political violence, Amnesty International said today from Westminster as an Amnesty report was presented to MPs.
Northern Ireland: Time to Deal with the Past, concludes that victims of the conflict are being let down by a flawed and fragmented approach and blames the failure to deliver truth and justice on a lack of political will from both the UK government and Northern Ireland's political parties.
As the Northern Ireland inter-party talks, chaired by Dr Richard Haass, enter their final phase, Amnesty made an explicit call for the UK government to commit to providing justice by establishing a comprehensive mechanism to review the conflict as a whole.
Chairing the launch of the report in Westminster today, Kate Allen, Director of Amnesty International UK, said:
"Amnesty's vast experience of societies emerging from periods of violence all over the world, tells us that where there is justice, where there is truth, where responsibility is established and the guilty are held to account, those are the societies that can move on cohesively.

"This is no time to try and force the lid on the box.  Instead, the Prime Minister and his government should heed the voices of the victims with us today, people desperate for  definitive closure to this chapter."
Amnesty's report is the culmination of a year and a half of research. It looks at the legacy of three decades of political violence which left over 3,600 dead and over 40,000 injured, with widespread human rights violations by agents of the state and armed groups.
Fifteen years since the Belfast/Good Friday Agreement, the report assesses the work of the established formal investigatory mechanisms, and sets out what remains to be done for families, communities and society at large.
Michael Gallagher, whose son Aidan was killed in the Real IRA Omagh bombing in 1998, which claimed the lives of 29 people, spoke at the Westminster launch today. He said:
"I am here today in the heart of Westminster to let politicians know that we – the relatives, the victims -  are not going away and that our call for truth and justice for what happened to our loved ones is not going away.
 
"There are thousands of us across Northern Ireland who are desperate for politicians here in London to give us the justice we deserve. The Haass talks present an opportunity to address this once and for all."
 
Ivan Lewis, Shadow Secretary of State for Northern Ireland, speaking at the launch, said:
"Unless you deal with the past in a way that delivers truth and justice, it will always be a block to the future."
Following the briefing, he went on to put an question to the Secretary of State for Northern Ireland, Theresa Villiers, asking if she agreed that in contrast to Amnesty's report, the problem with the Northern Irish Attorney General's proposals to offer immunity from prosecution to anyone implicated in abuses during the Troubles, was that they would cause victims' grievances to remain unresolved and "fester" even further. Theresa Villiers said the government had no plans to follow the Attorney General's advice, which she described as not offering a viable solution, adding that it had been met with almost universal condemnation.
Kate Allen added:
"It is a relief to hear the Prime Minister and the Secretary of State for Northern Ireland dismiss the idea of offering immunity from prosecution for horrific crimes committed during the Troubles. But through the continued failure to act, a justice vacuum has been created.

"It's good that Politicians are ruling out doing nothing, they must now follow through and do something, the right thing."
Amnesty is calling for a comprehensive mechanism that would also examine abuses suffered by those seriously injured, and victims of torture and other ill-treatment, which have too often been excluded from existing processes. Such a mechanism would be an important step towards ending impunity for human rights violations and abuses in Northern Ireland and could contribute towards ending societal division.