Northern Ireland: Arson attack on Belfast Multi-Cultural Association was second in three weeks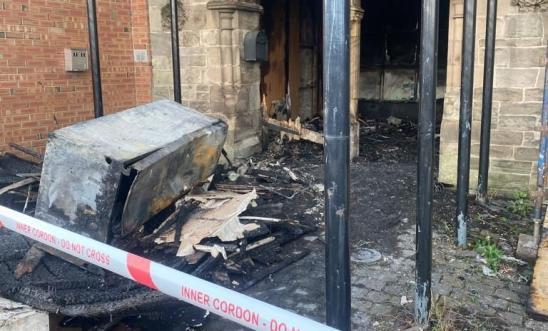 Aftermath of most recent arson attack on Belfast Multi-Cultural Association © Belfast Multi-Cultural Association
'We know that those responsible are not reflective of the community in Donegall Pass and across this city' – Muhammad Atif
'Repeated attacks, including the apparent use of a petrol bomb, are hallmarks of a deeply sinister campaign of racist violence' – Patrick Corrigan
Community fundraiser passes target – over £6,000 donated for group targeted in hate crime
The Belfast Multi-Cultural Association has suffered two arson attacks in the past three weeks.
In the early hours of Friday (8 April) morning, the centre was subject to an arson attack at the front of the building which caused extensive damage.
The building was also attacked in a separate arson attack on the weekend of 19-20 March. In that incident, wooden boards used in scaffolding at the rear of the building were set alight in a suspected petrol bomb attack.
Patrick Corrigan, Northern Ireland director of Amnesty International, said:
"The trustees at Belfast Multi-Cultural Association have informed me of another arson attack on the building just three weeks ago. Fortunately, that fire failed to take hold.
"Repeated attacks, including the apparent use of a petrol bomb, are hallmarks of a deeply sinister and concerted campaign of racist violence.
"This is creating a climate of fear for people from ethnic minorities in Belfast. We look to the police to do their job and hold to account those responsible."
Meanwhile, more than £6,000 has been raised over the weekend in an online appeal set up in the wake of an arson attack on Belfast Multi-Cultural Association in the early hours of Friday morning.
Donations have flooded in for the Belfast Multi-Cultural Association after its building on Donegall Pass in the city was targeted in what the police are treating as a racially-motivated hate crime.
The crowdfunder passed its target of £5,000 just a day after it was set up by Amnesty International's Patrick Corrigan. The target has now been raised to £7,500.
Muhammad Atif, a trustee of Belfast Multi-Cultural Association, said:
"These attacks have left us heartbroken. It seems clear we are the targets of a hate campaign designed to drive us out. But we know that those responsible are not reflective of the community in Donegall Pass and across this city.
"The response to this fundraising appeal has shown us that we have the support of the community. We are deeply grateful for this outpouring of solidarity.
"We will come back stronger than ever to help the communities whom we serve. That is our commitment to the people of Belfast."
In January last year, the building was gutted by an arson attack. Repair work to the roof had just been completed last Wednesday. The building has been used as a food bank, with volunteers distributing packages to vulnerable people during the Covid-19 pandemic. The Association is now continuing their work from temporary premises elsewhere in the city while repair work continues.