Northern Ireland: Amnesty welcomes inquiry report on child abuse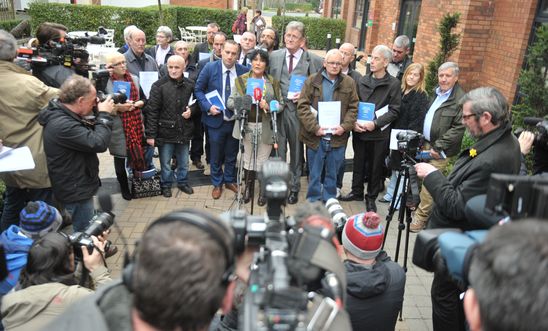 The long-awaited inquiry has attracted huge interest in Northern Ireland © Hugh Russell
'Today is a moment of truth and must be a catalyst for justice' - Patrick Corrigan 
Amnesty International has welcomed today's publication of the report of the Northern Ireland Historic Institutional Abuse Inquiry. The inquiry, chaired by Sir Anthony Hart, found widespread and systemic failings by the state and institutions in their duties towards the children in their care.
Patrick Corrigan, Amnesty International's Northern Ireland programme director, who campaigned for a public inquiry, said: 
"We supported the establishment and work of the inquiry and now welcome the publication of its report, which we will study in depth.

 

"The report's finding of systemic failings by those charged with the care of children is at once shocking but unsurprising, given the weight of evidence presented over the last several years. 
"The inquiry has laid bare the catastrophic failure by the state, and by religious bodies and others who ran children's homes over a period of more than 70 years. 

 

"Today is a moment of truth and must be a catalyst for justice.

 

"We note the inquiry report recommendations with respect to apologies and redress. Victims deserve nothing less than full and wholehearted apologies from government, the Church authorities and others who were responsible for running homes where children suffered abuse. 

 

"The Northern Ireland Executive must speedily put in place mechanisms to make reparation - including financial compensation - to all victims and in line with the proposals previously set out by abuse survivors.

 

"Ministers must also now turn their attention to investigating abuse allegations by those victims not covered by the inquiry: women from Mother and Baby Homes across Northern Ireland and those children who suffered clerical abuse outside a residential home setting.

 

"I would like to take this opportunity, once again, to pay tribute to the many child abuse survivors who courageously shared their experiences with the inquiry in the hope that such horrors will never be visited on future generations. 

 

"I would also like to put on record our thanks to Sir Anthony Hart, the other inquiry panel members and staff for the diligent manner in which they have conducted their work."
Extensive inquiry
The Historic Institutional Abuse Inquiry has investigated 22 homes or institutions, as well as the circumstances surrounding the sending of child migrants from Northern Ireland to Australia and the activities of serial child abuser Fr Brendan Smyth. The statutory inquiry, which covers the period 1922 to 1995, sat for 223 days of hearings and heard from hundreds of witnesses. It was established by legislation passed by the Northern Ireland Assembly after a campaign led by abuse victims and supported by Amnesty International.