Northern Ireland: Amnesty welcomes court challenge to same-sex marriage ban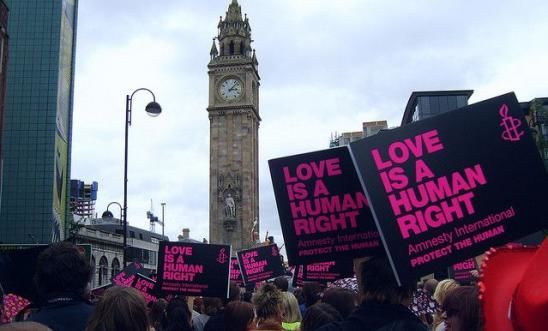 Love is a human right - at Belfast Pride
Amnesty International has welcomed the launch of a legal challenge to the ban on same-sex marriage in Northern Ireland. 
It was announced today that a same-sex couple from Northern Ireland, who got married in England, are challenging the failure of the Northern Ireland authorities to recognise their marriage. The couple are asking Belfast's High Court to declare that their marriage is lawful and should be recognised as such in Northern Ireland. The case, which began on January 8th, is being supported by local LGBTI organisation, the Rainbow Project.
After changes to the law in England, Wales and Scotland in 2014, Northern Ireland is the only part of the UK with a ban on same-sex marriage still in place. Same-sex marriages from other jurisdictions are treated as civil partnerships in Northern Ireland. 
Patrick Corrigan, Amnesty International's Northern Ireland Programme Director, said:
"Amnesty International welcomes this court challenge and predicts that the courts will now move to outlaw discrimination where Northern Ireland's politicians have failed to do so.
"Same-sex couples in Northern Ireland continue to face a ban on marriage as a result of discrimination based on their sexual orientation. We welcome that discrimination being challenged in the courts.
"We have long predicted that, should Northern Ireland's politicians fail in their duty to end such discrimination, then gay people will go to court to have their human rights as equal citizens vindicated. 
"States may not discriminate with regards to the right to marry and found a family, on the basis of sexual orientation or gender identity.  
"That obligation is clear in international law. This means that marriage should be available to same-sex couples in Northern Ireland, just as it is now in Scotland, England and Wales."