Nigeria: Two years after Chibok girls abduction, Buhari government must do more to 'bring back our girls'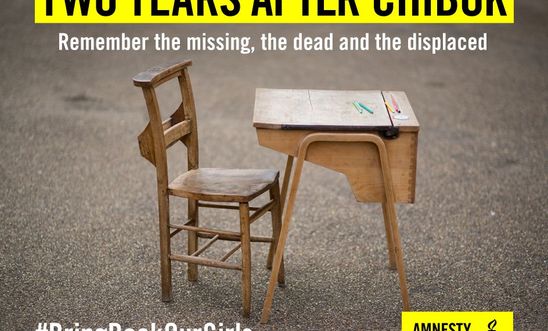 "Few of us can begin to comprehend the suffering of parents who have not seen their daughters for two years' - M.K. Ibrahim
Two years on from the notorious abduction of 276 Chibok schoolgirls by the armed group Boko Haram in North East Nigeria, the government must do all it can to secure the safe release of the remaining hostages, Amnesty International said today.
The fate of 219 of the 276 schoolgirls taken from Chibok secondary school remains unknown as does that of thousands of other women, girls, young men and boys abducted by Boko Haram. The kidnap of the school girls prompted a global outcry, and campaigners called for their release using #BringBackOurGirls. Over the past two years, Amnesty has released evidence that the Nigerian security forces had prior warning of the abduction which they failed to act upon.
Recent news reports have suggested that Boko Haram has offered to release the Chibok schoolgirls if a ransom is paid. Amnesty does not take a position on negotiations to secure the release of hostages and the precise measures adopted in any particular case are a matter for the government to judge in compliance with their obligation to protect the rights of individuals within their jurisdiction.
Amnesty's Nigeria Director, M.K. Ibrahim, said:
"Those guilty of inflicting this unspeakable suffering must be brought to justice, once and for all.

 

"Few of us can begin to comprehend the suffering of parents who have not seen their daughters for two years.

 

"In addition to the Chibok schoolgirls, today we also remember all those abducted, killed and displaced. Two years on, the Chibok girls have come to symbolise all the civilians whose lives have been devastated by Boko Haram.

 

"Muhammadu Buhari's government should do all it lawfully can to bring an end to the agony of the parents of the Chibok girls and all those abducted. They should do more to bring back our girls, guarantee the protection of civilians in the north-east of the county and ensure access to education for children in the region."
On Thursday, Amnesty will join #BringBackOurGirls demonstrations in Abuja to mark the anniversary and remember all those abducted, killed and displaced by the armed group.